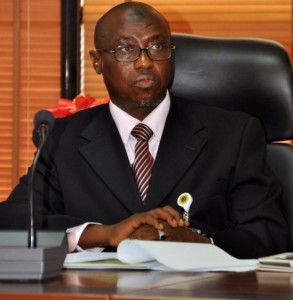 The Nigerian National Petroleum Corporation (NNPC) said it has raised the stake in its commitment to diversify into the health sector in line with its stand to stay afloat as a commercially viable entity.
Group Managing Director of the Corporation, Dr. Maikanti Baru, made this known yesterday in Abuja while inaugurating the Boards of the NNPC Medical Services Ltd. (NMSL) and the NNPC Health Maintenance Organisation (HMO) Ltd.
"My vision is to make NNPC a renowned Health Medical Services (HMS) provider globally. We are committed to making our medical facilities a reference point for the provision of world-class medical health services in Africa and beyond," Baru was quoted as saying in a statement by the corporation's spokesman Ndu Ughamadu.
Following the recent restructuring of the NNPC, its Group Medical Services was realigned as a new venture non-core business entity, charged with the responsibility of creating new medical businesses that will generate revenue for the corporation.
As at today, the NNPC Medical Services Division boasts of 52 clinics and hospitals spread across the Corporation's various locations across the country, providing services to staff and their family members.
The aim now, according to the GMD, is to open up these medical facilities to other oil and gas organisations as well as other interested third party consumers for profitability.
Dr. Baru charged the Board members to provide the necessary direction to medical service delivery in NNPC in line with global best standards.
"With this development, the existing NNPC Hospitals will compete for clients with other top class hospitals in locations where they operate hence quality of service would be improved," Baru stated.