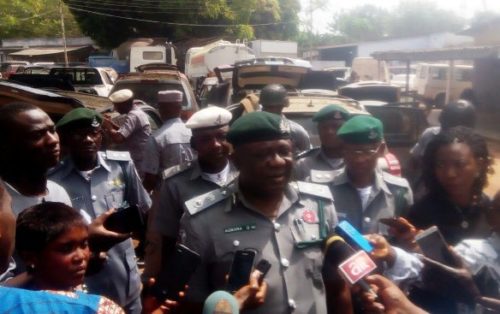 Controller, Ogun Area Command of the Nigeria Customs Service, Comptroller Michael Agbara, has said that the recent joint border summit between Nigeria and Benin Republic would enhance seamless facilitation of trade, deal with corrupt tendencies and reduce trans-border crimes.
Comptroller Agbara stated this on Thursday at Idiroko during a cross border joint security summit between Nigeria Customs and it Benin Republic counterpart with the theme, 'Cross Border Cooperation: Local and Preventive Diplomacy on Conflicts'.
Agbara stated that the summit became imperative following the myriad of irregular migration and trade challenges of trans-border crimes such as arms smuggling, human trafficking, drug trafficking and terrorism, which according to him must be tackled headlong.
The Ogun Customs boss added that the cross border relationship between the two nations would guarantee more effective management of borders.
He maintained that the joint border coordination will enhance synergy among Nigerian security agencies working at the various land borders and security agencies of neighbouring countries sharing land borders, and guarantee trade facilitation without jeopardizing national security.
According to him, the Nigeria Customs Service will continue rendering the needed support in the collaborative effort, by providing information and appropriate services when the need arises.
"It is a platform that enables Nigerian exporters and importers to declare goods once at one end, and that declaration is automatically transmitted through a server to the other country seamlessly.
"If your goods arrive at Cotonou port, and it is for transit to Nigeria, you will make a declaration at the Cotonou port and such goods will be transmitted to Nigeria without necessarily coming back to Nigeria to make any declaration on your goods again," he said.
He recalled that since the September 9/11 terrorists attack, all countries are re-focusing on coordination between agencies within and outside to breach information gap.
"Some of the information available to Benin might not be available in Nigeria, but with this joint cooperation, they will be able to share such information willingly unlike in time past where we live in suspicious manners," he said.
An official of the Beninoise Senior Police Officer, Mathias Gahou, applauded the initiative of the Ogun Command to partner with sister countries to combat trans-border crimes.
Gahou noted that the joint border security summit will reduce criminality such as human trafficking, drug trafficking, and arms dealing at the border land.