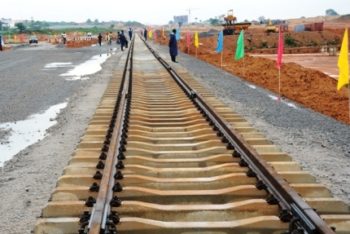 A standard gauge rail line stretching from Parakou in Benin Republic will terminate in Ilorin, central Nigeria, upon completion, as part of a budding infrastructure rebirth aimed at unlocking potential investment opportunities in the West African sub-region.
The project was disclosed at Africa's premier infrastructure summit which kicked off in Abuja Monday.
The event, organised by Africa Finance Corporation, was held on Monday and continues on Tuesday. It brings together some of the frontline experts in infrastructure investments who would offer suggestions on how to approach the continent's infrastructure demands.
The cross-border rail project is part of a series of investment arrangements put in place by Petrolin's Backbone Project – which includes a rail line to be built on existing networks linking Cotonou (Benin) to Parakou (Benin), to Dosso (Niger) and to Niamey (Niger) for a total 1,032 kilometres.
The project also includes a new dry port, a new deepwater port, a dry port and a new international airport being planned around Cotonou-Parakou axis in Benin Republic, Petrolin said.
The project will unlock opportunities in other critical infrastructure endeavours such as schools, universities, health centres, and tourism areas.
"The core of our business strategy is to use our international strength to bring on board first class international companies and, more importantly, to involve local indigenous partners and investors to associate them to the development of the sub-region," Samuel Dossou-Aworet, Chairman of Petrolin Group, said on the opening day of the event, tagged: AFC Live 2017.
"We're currently planning a train line from Parakou to Ilorin, Nigeria," he added.
But details of the construction project, which could span up to 360 kilometres, were not immediately provided at the event.
Andrew Alli, the President and CEO of AFC, who said investors unveiled about a dozen projects that would gulp as much as $13 billion at Monday's session of the event, noted that his team would prioritise partnerships across the continent.
"We will focus on deal-making, with a view to leveraging public-private partnerships for continental infrastructure transformation," Alli said.
AFC, which has its headquarters in Lagos, said the infrastructure projects were planned for Benin, Burundi, Democratic Republic of Congo, Kenya, Niger, Rwanda, Tanzania, Zambia and Zimbabwe, amongst others. 
Copyright Ships & Ports Ltd. Permission to use quotations from this article is granted subject to appropriate credit given to www.shipsandports.com.ng as the source.