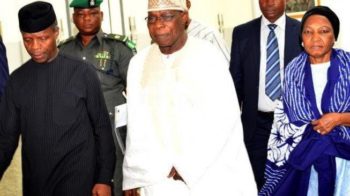 A group known as the Ijaw Union has asked Acting President Yemi Osinbajo to probe former President Olusegun Obasanjo over his role in the controversial Malabu oil deal.
In a statement on Monday, Ebitari Dombraye and Wilson Awengidappa on behalf of the group, also charged the acting president to conduct a fresh investigation into the Halliburton scandal and the recovery of the Abacha loot during the Obasanjo administration.
The group said the revocation of OPL245 from Malabu Oil and Gas Limited did not follow the due process.
They alleged that Obasanjo went directly to negotiate directly with Shell and that his government extracted $210 million as against $20 million earlier awarded to Malabu.
It said that there were plans to appoint "a crony to take ownership of the asset with Shell."
"Let us recall that in 2001, the Obasanjo government revoked the award to Malabu Oil and Gas even after the Christopher Kolade commission set up to review previously awarded oil blocks in the country found nothing untoward in the award to Malabu Oil and Gas," the statement read.
"This revocation did not follow due process or indeed the petroleum act and what was even more curious; no reason whatsoever was given for the revocation.
"The former president did this in blatant disregard of the petroleum act and indigenisation policy, a major consideration for the award.
"Despite revoking the block, the ex-president also went ahead to negotiate directly with Shell where they extracted a $210 million from Shell as against $20 million earlier awarded to Malabu with plans to appoint a crony to take ownership of the asset with Shell.
"Former President Obasanjo's government reinstated the asset to Malabu with Chief Obasanjo as petroleum minister and Bayo Ojo (SAN), as Attorney General, the Yar'Adua government validated it with Odein Ajumogobia (SAN) as petroleum minister and Michael Aoondaka as Attorney General and finally the Goodluck Jonathan administration with Diezani Madueke as minister and Mohammed Adoke (SAN) as attorney-general.
"If Chief Obasanjo's claim has any currency, are we saying none of these individuals and ministries and the plethora of egg-heads that populate them including officials of Shell and ENI the other counterparties, could not have pointed out the fact that the 2006 approval to return the block to Malabu was done without the knowledge or consent of the president or minister of petroleum who were one and the same person?"
Copyright Ships & Ports Ltd. Permission to use quotations from this article is granted subject to appropriate credit given to www.shipsandports.com.ng as the source.