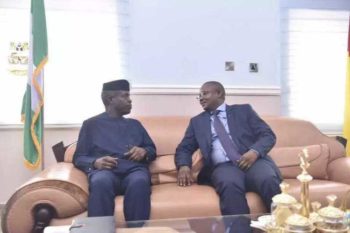 Acting President Yemi Osibanjo on Thursday said Nigeria would continue to be actively involved in finding solutions to the leadership crisis in Guinea Bisau.
Osinbajo gave the assurance after a closed-door meeting with the Prime Minister of Guinea Bisau, Omaru Embalo, at the Kaduna International Airport.
He told journalists that Nigeria would continue to be part of ongoing engagement initiated by ECOWAS to bring to an end the crisis of succession and leadership in Guinea Bisau.
"What has happened today, we are furthering that consultation, trying to ensure that we are able to be a part in resolving the leadership crisis that is there, and we intend to be continuously involved until it is resolved.
"We think that ECOWAS will be able to resolve that problem and we are very active participants in that whole process.
"We hope that within a very short time, we will be able to resolve the crisis along with all of the other parties in ECOWAS."
On areas of collaboration between the two countries, the acting president said the two nations were important partners in "every possible things", including economic, political and social issues.
On his part, the Prime Minister of Guinea Bisau, Omaru Sissco Embalo, said the visit was to consult with the Nigerian government on the political situation in his country