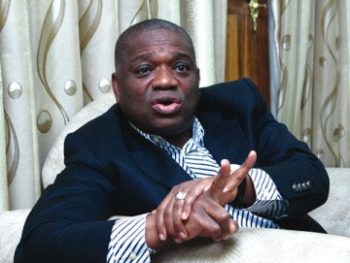 A Federal High Court in Lagos on Thursday ruled that a prosecution witness was competent to give evidence in the ongoing trial of a former Governor of Abia , Orji Uzor Kalu, charged with N3.2 billion fraud.
In a short ruling on Thursday, Idris held that the witness was competent to give evidence although he was not listed in the proof of evidence.
"I have no doubt that the witness is competent to give evidence in the trial."
Idris, however, pointed out that the witness was not properly brought before the court, and urged the prosecution to comply with the provisions of Section 379(1) of the Administration of Criminal Justice Act.
The judge, therefore, directed the Economic and Financial Crimes Commission to supply the Defence with additional proof of evidence.
The EFCC had on Oct. 31, 2016, preferred a 34-count charge bordering on N3.2 billion fraud against Kalu and his former Commissioner for Finance, Ude Udeogo as well as Kalu's company — Slok Nigeria Ltd.
The accused had pleaded not guilty to the charges and were admitted to bails.
At the last adjournment on March 8, the prosecution had began examination of its second witness, Mrs Christiana Ohiri, the Umuahia Branch Manager of UBA .
The witness had began her testimony and the prosecution and sought to tender some statements of account through her when a defence counsel, Mr Mike Ozekhome (SAN) objected to the admissibility of the document.
He argued that the document could not be tendered in evidence as same was not duly certified, and urged the court to uphold his submission.
Justice Mohammed Idris consequently adjourned the case to March 9 for ruling.
The accused were alleged to have committed the offence between August 2001 and October 2005.