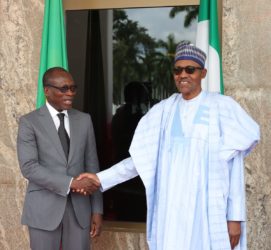 President Muhammadu Buhari and the President of Benin Republic, Patrice Talon, have agreed to set up a joint committee to combat smuggling between both countries.
Buhari disclosed this on his Twitter handle on Thursday, as he noted that smuggling poses a significant economic and security risk to Nigeria.
He added that "Even though Nigeria has, in the last three years, succeeded in cutting the importation by about 90 per cent, parboiled rice is still being smuggled into the country, discouraging our farmers and undermining our goal of self-sufficiency in rice production. This is why we must act."
The Benin Republic president, Talon, had paid a visit to the State House, Abuja on Wednesday.