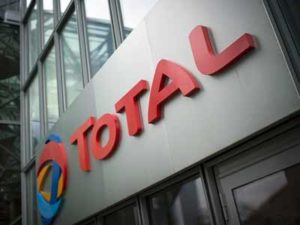 French oil and gas major, Total, raised its 2018 savings and oil production targets after a new record quarterly output.
Costs savings and high oil prices had lifted its net profit in the second quarter.
According to the group, adjusted net profit for the second quarter soared 44 percent to $3.6 billion, beating analysts' estimates of $3.4 billion.
Oil production rose by 8.7 percent to 2.717 million barrels of oil equivalent per day, driven by the early completion the Maersk Oil deal, and the ramp-up of several projects including Yamal LNG in Russia and Moho Nord in Congo.
Total raised its production growth target to 7 percent in 2018 from 6 percent previously, expecting a boost from the start-up of its Kaombo North project in Angola, Egina in Nigeria, Australia's Ichthys LNG and Tempa Rossa in Italy.
It said cost savings measures were on track to surpass the $4 billion target for the year and reach $4.2 billion over the 2014-2018 period.
"Oil prices continued to increase, averaging $74 per barrel in the second quarter, supported by inventory reductions and geopolitical tensions," Total's Chief Executive, Patrick Pouyanne, said in a statement.
The company said it would continue to implement programmes to improve operational efficiency and reduce its break-even so as to remain profitable, whatever the market context.
Organic pre-dividend break-even continued to drop to less than $25 per barrel in the quarter, it said.
Total also maintained 2018 investments at the $16-$17 billion range.
Total said it bought back all shares issued during the year for the scrip dividend scheme and also bought back shares for $600 million to spread the benefits from the higher oil prices with shareholders.
Total's share buybacks came as its rival, Royal Dutch Shell, also launched a long-anticipated $25 billion share buyback programme on Thursday.
Total added that it will continue to buy back shares issued as scrip dividend when prices were down, to eliminate dilution.
Total also raised its dividend in the quarter by 3.2 percent to 0.64 euros ($0.7487) per share.
Agency Report