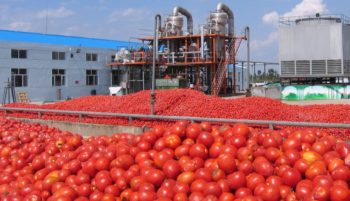 The Agricultural Products and Equipment Manufacturers in Nigeria (APEMAN) has stated that in 18 months, with the support of the Federal Government and effective implementation of the ban on importation of tomato paste, Nigeria will be able to produce enough tomato paste for local consumption and export.
The President of the association and Chairman of Erisco Foods Limited, Chief Eric Umeofia, stated this in Lagos during a press briefing.
While commending the Federal Government on the recent ban on importation of tomato paste, Umeofia stressed the need to ensure strict implementation of the policy in order to guard against influx of smuggled tomato paste.
He advised the government to support tomato farmers with quality seeds, preservation technology and funds so that they could produce enough to feed the local processing plants.
The APEMAN president said that his processing plant, for instance, had an installed capacity of 56 trailers of tomato paste a day, adding that he was producing less than 20 per cent of the capacity.
"If we can meet 80 per cent capacity, we will be able to export our products," he added.
He also stressed the need to support local manufacturers with low interest rate loans such as five per cent per annum, instead of the prevailing interest rate, which was not encouraging borrowers.
He added that the government needed to set up a panel that could visit genuine manufacturers in Nigeria in order to know their challenges and ways of mitigating them.
Umeofia, who expressed doubts about the genuineness of some manufacturers, alleged that some importers were hiding under the cover of manufacturing to flood the market with substandard imports.
"The real manufacturers in this country make up two per cent of the sector; 98 per cent are importers masquerading as manufacturers to benefit from government's incentives," he said.
According to him, the government can only spot real manufacturers by visiting their various production plants.