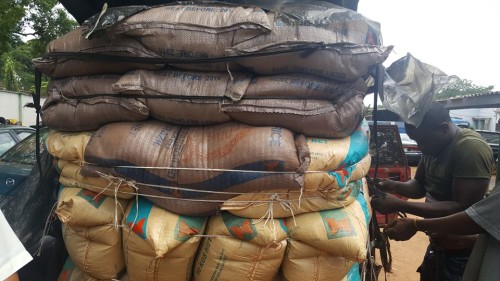 Rice Millers Importers and Distributors Association of Nigeria (RIMIDAN) has raised the alarm over high rate of smuggling, lamenting that about two million tonnes of parboiled rice are smuggled into Nigeria annually. 
RIMIDAN said due to the high smuggling rate, it is in support of the federal government's threat to shut some land borders over rice smuggling and other contraband.
Minister of Agriculture and Rural Development, Audu Ogbe had penultimate week in Abuja said the federal government might consider closing some land borders if the smuggling of rice from neighbouring countries continues.
Secretary of the Association, Shuiab Muhammed in a chat with SHIPS & PORTS DAILY in Lagos said the threat to shut the borders is coming rather too late given the enormous damage smuggling of rice and other contraband goods has done to the economy.
"The threat is a welcome development because it is something that we have been expecting. It is something that is actually belated but is good we are starting now because the damage on our economy has been enormous especially with the neighbouring countries.
"As we speak today, close to two million tonnes of parboiled rice come in through the neighbouring countries on yearly basis and our consumption is just about 6million tonnes so if two million tonnes is already smuggled in, it is not good for our farmers if we let this continue. 
"The government of Republic of Benin and Cameroon know that this is pure sabotage on Nigerian economy but they keep doing it because they are benefiting from it. They have taken jobs from the ports, and farmers," he said.
Mohammed said while Customs is doing its best by impounding some of the smuggled rice, there is limit to what customs can do to stop rice smuggling.
"The customs go to the markets to arrest and seize goods but they are losing men on daily basis because the community where they operate have a way of protecting these smugglers. The customs is doing its best but I think the best is what the government has come out with," he said.    
Copyright 2017 Ships & Ports Ltd. Permission to use quotations from this article is granted subject to appropriate credit given to www.shipsandports.com.ng as the source.