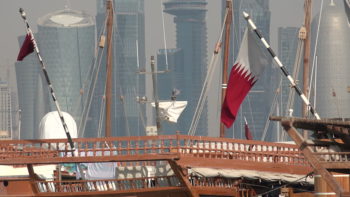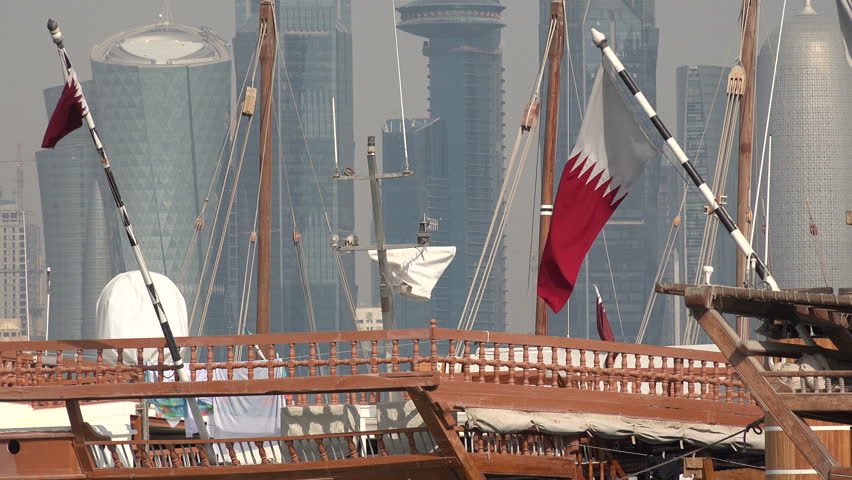 Ports in Saudi Arabia and the United Arab Emirates barred ships flying Qatari flags after the two countries broke off diplomatic ties with Doha, in a move that raised fears of disruption to oil and gas shipments from the Gulf OPEC member.
The Saudi Ports Authority has notified shipping agents not to accept vessels flying Qatari flags or ships owned by Qatari companies or individuals, it said on its Twitter account on Monday, adding that Qatari goods would not be allowed to be unloaded in Saudi ports.
"Vessels flying the flag of Qatar or vessels destined to or arriving from Qatar ports are not allowed to call on the Port of Fujairah or Fujairah Offshore Anchorage regardless of the nature of their call until further notice," authorities in Fujairah, an emirate in the UAE and regional bunkering hub, said in a notice. 
Saudi Arabia, the UAE, Egypt and Bahrain said on Monday they would sever all ties including transport links with Qatar, accusing it of supporting terrorism.
Gulf OPEC member Qatar, the world's top seller of liquefied natural gas (LNG), produces around 600,000 barrels of crude oil per day and is not a big crude exporter.
But it is a major exporter of condensate, an ultra-light form of crude oil, as well as liquefied petroleum gas (LPG), with most supplies of the two fuels going to Japan and South Korea under long-term supply contracts.
The shipping ban will make the logistics of buying Qatari crude and condensate much harder, one Singapore-based trading source from a European trading firm said.
"Usually Al Shaheen cargoes go to Saudi (to co-load) then go East," the source added.
Qatari grades such as Al Shaheen crude are typically marketed in lots of 600,000 barrels, while Deodorized Field Condensate (DFC) is sold in cargoes between 500,000 barrels to 1 million barrels.
Asian buyers prefer to ship Middle East crude via VLCCs because of the economies of scale that the larger vessels provide.
Traders startled by the rapid developments are also closely watching any disruptions to natural gas supplies from Qatar to the UAE and Oman.
Two industry sources said earlier on Monday that the Dolphin pipeline was operating normally, but industry sources and traders are ready for all eventualities in case of a shutdown of the pipeline, which would cause a major disruption to UAE's gas system.
The Dolphin gas pipeline links Qatar's giant North Field with the UAE and Oman, and was the first cross-border gas project in the Gulf Arab region. It pumps around two billion cubic feet of gas per day to the UAE.
The diplomatic dispute comes as the Organization of the Petroleum Exporting Countries (OPEC), of which Saudi Arabia, the UAE and Qatar are members, recently agreed to extend crude oil production cuts in an effort to prop up prices.
OPEC sources said the political crisis would not affect policy-making at OPEC, of which Saudi Arabia as the world's biggest crude exporter is seen as the de-facto leader.
"There will be no impact on OPEC (decision-making)," one OPEC source said, adding that other political disputes within the group, including between Saudi Arabia and regional arch-rival Iran, had not prevented OPEC from agreeing on oil policy.   
Meanwhile Qatar Airways said on Monday it had suspended all flights to Saudi Arabia as a major diplomatic crisis escalated in the Gulf region.
The move by the Doha-based carrier came just hours after Saudi Arabia, Bahrain, the United Arab Emirates and Egypt cut diplomatic ties with Doha over accusations it supports extremism.
Several airlines from those countries earlier announced they would no longer fly to Qatar.
"Qatar Airways has suspended all flights to the Kingdom of Saudi Arabia" until 1159 GMT the same day, a statement from the airline said.
A spokeswoman said it was unclear if the suspension would be extended.
Qatar Airways flies to nine cities in Saudi Arabia.
UAE carriers Emirates, Etihad, Fly Dubai and Air Arabia, as well as Saudi Airlines, all announced earlier on Monday they would suspend flights to Doha starting from Tuesday morning.
It was not immediately clear if Qatar Airways would also suspend flights to other countries.
Regional powerhouse Saudi Arabia on Monday ordered its nationals to leave Qatar within 14 days and barred Qataris from the kingdom.
Saudi Arabia has also closed its border with Qatar.   
Copyright Ships & Ports Ltd. Permission to use quotations from this article is granted subject to appropriate credit given to www.shipsandports.com.ng as the source.