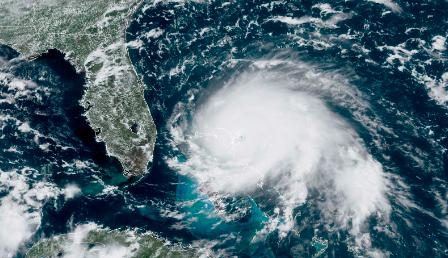 All types of shipping along the southern US East Coast are facing disruption as Hurricane Dorian, which had reached Category 5 designation – sustained winds in excess of 157 mph – was bearing down on the Coast.
This storm had already gained notoriety as the most serious, since records were maintained, to ever hit the Bahamas; it made landfall near Elbow Cay and then at Marsh Harbor- a noted yachting destination in the Abaco chain of islands. Grand Bahama Island was next in its predicted path. As the hurricane churned westward, it gained intensity fuelled by warm waters, and slowed down.
For ports along the US East Coast, hurricane preparations were underway as the storm which first moved westward, was expected to make a right turn where it was expected to follow the coast northward.
Ports from Miami up to Norfolk, Va. were already adjusting their operations, or expected to as the path of the storm became clearer. As of evening on Sunday, 1 September, the ports of Miami, Port Everglades, Palm Beach and Port Canaveral were at Port Condition "Yankee"- expecting gale force (34 knots or more) winds within 24 hours, by evening of Monday, 2 September 2. With this designation, they are closed to inbound traffic and movements within the port are subject to restriction.
Jacksonville, Tampa and Port Manatee were still open, with Condition "X-Ray" designation- meaning that gale force winds were estimated to be 48 hours away. Brunswick and Savannah, in Georgia, stated that normal business would continue prior to the Labor Day holiday (Monday, 2 September).
As forecasters' expectations shifted the path to a coastwise trajectory (instead of cutting directly across Florida from east to west, as had been initially thought) the state had already initiated emergency preparations. Farther up the coast, in Charleston, SC, Wilmington NC and Morehead City – with "Condition Whiskey" designations- as of afternoon on 1 September, the North Carolina Ports Authority indicated that the ports would close on Wednesday, 4 September, following a normal business day on Tuesday 3 Sept- always subject to changes in forecasts.
In previous storms along the East Coast, the issue of the Jones Act, the US cabotage scheme, has reared its head, and may do so again, as coastwise tankers that hunkered down in protected waters would be out of position for cargo loadings in the US Gulf- destined for ports along the US East Coast.
It is possible that charterers may request Jones Act waivers- as they did in the midst of the 2017 hurricane season, where non-US tankers could be chartered for coastwise moves of refined products and some crudes. 2017 also saw disruptions in container and breakbulk shipments to Puerto Rico, which had been directly in the path of Hurricane Maria.
This time around, Dorian's tortuous path spared Puerto Rico, however, Jacksonville, Florida- the main hub for shipments to the island, was within the "cone" (a path on the maps showing the possible range of the storm locations going forward) of Dorian. With its "Condition X-Ray" designation, the potential existed for disruptions mid week, with such prognostications depending on the path of the storm.