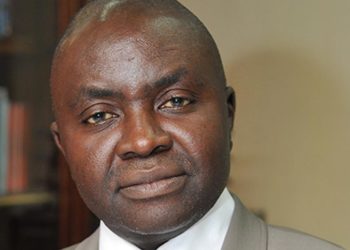 Director-General, Lagos Chamber of Commerce and Industry (LCCI), Muda Yusuf in this exclusive interview with Shulammite 'Foyeku speaks on the need for government to review some of its trade policies especially those that impact negatively on port operation and manufacturing. He also makes a case for the concessioning of scanning machines at the ports, among other issues.
What is your assessment of government efforts so far at improving the ease of doing business at the ports?
I think government has demonstrated some commitment, some will to ensure that things work better and the system runs more efficiently at the port. Measures have been taken through the Executive Order, streamlining operations at the ports and reducing the number of agencies all in an effort to ensure that the ease of doing business is improved at the port. But, it is one thing to show that demonstration of commitment and the will to change things, it is another thing for the changes to happen. The changes are very slow in happening because it is a system where there are some very strong and rigid interests hence it will take some time to get people to change their thinking and orientation. But I believe that if the government is persistent and occasionally wield some big stick against whoever is standing or obstructing the reform that is taking place, people will sit up faster than what it is. We have institutions to deal with like the Customs, the Nigerian Port Authority (NPA), shipping companies and others. Some of these institutions are benefiting from the status quo and it has not been easy for anybody to get them to change but if there is strong will and appropriate sanctions for those who are standing on the ways of these changes, then I think we would move faster in achieving the kind of changes that we want to see. Some of the things that are required are not only institutional, some are physical. For example, infrastructure is a physical thing and you need money to fix the infrastructure. So beyond just talking about it, we need to see that there is financial backing to ensure that these infrastructures such as the roads, railways to the ports are fixed as well as other facilities that are suppose to make it easy for operations in the port to function. Those things are still not there and the irony is that close to 30 percent of government revenue if not more is coming from the port, so if you are making so much money from a particular place and you know that if you make the system more efficient, you will make more money, so why not just fix whatever challenges are there?
I think that is the logic that we should begin to push for government. It is in the interest of government to raise more revenue for us to have a more efficient port system in terms of the institutions that are operating and in terms of infrastructures that are on ground. These two things are very critical. Then, there is also the policy aspect especially with regard to trade policy. If the trade policy is also defective, you lose a lot of business to ports of neighbouring countries and that is what is happening now because some of those tariffs are too high and also not sustainable. If a tariff is too high, people cannot go over it, they will go under it and that is what is happening. People divert cargoes and they smuggled some of these products because the borders are so porous and there is limit to what Customs can do. Even those who are doing legitimate business at the ports find it more difficult when you have such unsustainable tariff regime. The government is losing revenue and we are also losing our jobs. So our trade policy is also very important in ensuring that we have a vibrant maritime sector.
How have these lapses especially with regards to high tariff impacted on your members?
It has impacted negatively because all these things come down to cost. When you have a system that is not efficient, it increases your cost of operation. Some of the challenges we are seeing in the ports, the man on the street is paying for it without knowing because the increase in cost will be transferred to the importer who in turn transfers to the end users because everybody along the chain are in the business to make money. So as their cost is increasing, the price at which they will sell their products will increase. Secondly, it will erode the margin of all the people working in the chain because it is not all your cost you will transfer to the consumers, you have to absorb some. So it erodes the margin of a lot of businesses. Of course, it also affects production process. So these are some of the effects.
What do you think can be done to curb the problem of cargo diversion?
Port activities generate tremendous multiplier effects for the economy especially in terms of job, revenue and incomes for people. So to the extent that we are losing so much to neighbouring countries, we are losing so many things including expertise. And ultimately, some of these products still find their way back into the country. That is the irony of it because the borders are porous.  One way to address this problem is to ensure we review our trade policies. We should not set a tariff at a level that will make it more commercially expedient to make people avoid using our ports. Some of the reforms that we are putting in place to make our institutions more investment friendly is also very important. If we are able to drive that to a logical end and get our institutions that relate with importers at the ports, we need to change their orientations so that they can begin to see importers as customers and relate with them the way a business person will relate with a customer. Then the infrastructure too has to be there. If the infrastructure is not right, it could create bottlenecks for operators and it could make things more expensive. If it is taking you such a long time to discharge your vessel, to get your consignment out of the port, these are big problem that could lead some people to say rather than get stuck at the Lagos ports, it is better to go through Cotonou and come through the land border. Those are the things I think we can do to stop the diversion or reduce cargo diversion to neighbouring countries.
Some private firms are calling for the concessioning of scanning operations at the port. What is your take on this?
First, there is need for government to invest a lot more in facilities at our ports including scanners. So the political will must be there and we need to push the government to make that happen. All these things call for effective advocacy on the part of all the stakeholders that are operating in that environment – the importers, freight forwarders and even the business people. If government is making so much revenue from that area, government should be able to plough back a bit of it to ensure that there are facilities. Secondly, Customs cannot do everything. My view is that Customs should face the issue of revenue collection and trade facilitation. Things that have to do with scanners and their maintenance should be outsourced. It doesn't have to be the Customs that will be managing scanners. That is contributing to the inefficiency and the challenges we have with the scanners because Customs is operating within a bureaucratic structure unlike if you have a private sector company that knows that it has the responsibility to manage and maintain these scanners, the response time to fix the scanners will be shorter and they will be able to deal with it faster. But if you leave it to the Customs to manage and run and something goes wrong with the scanners before you do a memo get the hierarchy to approve it, you know how a bureaucracy works. We can't use a bureaucratic structure to drive a business enterprise. It will cripple the business. That is what is happening to the issue of the scanners. So we need to separate those responsibilities and outsource handling of the scanners to those who have the expertise to do it. So there is issue of investment, there is also the issue of the structure of operations. We need to tackle it from those two angles.
What is your take on an aspect of the revised import guidelines that all cargoes coming into the country must be palletised?
We do not support it and we have kicked against it.  First of all, we should get our facilities to work. In this year and age we should not be doing 100 percent examination because one of the arguments on the issue was that it will be easier to examine a container if it is palletized. If the scanners are working well, we won't have any reason to be doing physical examination. Secondly, not all consignments are amenable to palletization. For example, a lot of people import chemicals in drums. How are they going to palletize that? The tyre importers have approached us in the chamber that this policy is going to work against them because they can't put tyres in pallets. There are also some consignments that are in sacks, bags, how do they palletize that?
The moment you introduce palletization, it will increase the number of containers. For example, a consignment that normally should go into two containers, you may need about three or four containers and that is not really adding any value to the products but additional cost for the importer. It may mean more business for the shipping companies but it is going to increase cost for the importers. There are quite a lot of argument on that issue and we have submitted a position paper to the Minster and the Shippers Council and the council told us that the matter has been put on hold until there is further consultation and review. Possibly they will isolate what items can be covered by the circular and what items can be exempted.
Copyright Ships & Ports Ltd. Permission to use quotations from this article is granted subject to appropriate credit given to www.shipsandports.com.ng as the source.