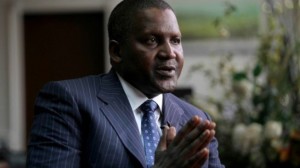 Business mogul, Alhaji Aliko Dangote has denied reports that he plans to run for Nigeria's top job on the platform of the Peoples' Democratic Party (PDP) in 2019.
"I am an entrepreneur. My passion is to create jobs for Nigerians and not otherwise. 
"I am not interested in politics and this is authoritative. No member of any think tank committee has contacted me. People should stop dropping my name for the 2019 presidency.
"This whole thing is an attempt by people who do not like me. They are doing all these with a view to putting me on a collision course with President Muhammadu Buhari and the ruling party. They are people who are jealous of the successes I have so far recorded in business.
"My passion is for business development, provision of jobs and wealth creation, not politics. I have never shown interest in politics. I'm not interested in politics. I am not a politician. My passion has always been business and business.
"Buhari is like a father to me. Nobody should try to set me on a collision course with President Buhari. That will not work. I have high regard and respect for the President.
"For emphasis once again, I am not a politician. I can't and won't confront President Buhari. They should leave me out of any high wire politics and horse-trading.
"I also seize this opportunity to warn name droppers to desist from their infamous act. They should stop using my name for politics. They should not set me on collision course with President Buhari and the government in power.
"By the time the ongoing Dangote refinery in Lagos and the sugar projects come on stream fully, there will be a great positive development and thousands of jobs created that will change the narrative in the country. That is my passion," Dangote said in an interview with Daily Times.