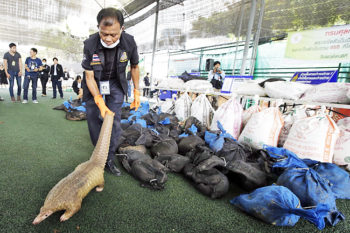 By Jite Eriabie
Thai customs officials have seized more than 100 live pangolins and 450 kilograms (990 pounds) of scales from the endangered animal in their latest action against illegal wildlife trafficking, the customs department chief said Thursday.
The animals and animal parts were found Wednesday in two pickup trucks after authorities received a tip that they had been smuggled from Malaysia, according to Customs Department Director-General Kulit Sombatsiri.
Pangolin scales are used in traditional Chinese medicine and contain keratin, a protein also found in rhino horn, though there is no scientific proof that they provide any medicinal value.
Pangolin meat is considered a delicacy in Vietnam and some parts of China.
Demand for pangolin scales and meat has led to rampant poaching that is decimating populations across Asia. More than one million pangolins have been poached in the past decade, threatening the creature with extinction, according to the International Union for the Conservation of Nature.
A United Nation wildlife conference last year approved a ban on trade in all eight species of Asian and African pangolins.
In February, almost three tons of scales from endangered African pangolins, hidden in sacks, were seized at Bangkok's main airport. In May, seven tons of pangolin scales were also confiscated in Hong Kong.
Kulit said his department has seized more than 2.9 tons of pangolin-related items this year worth more than $870,000.
He said 34 arrests involving the smuggling of illegal wildlife have been made this year, resulting in a total of 7.4 million dollars worth of assets seized.
The wildlife trade monitoring group TRAFFIC recently expressed concern that Malaysia appears to be a transit point for the illegal trade of pangolins and ivory, with traffickers routinely moving their contraband through Malaysia. 
Copyright Ships & Ports Ltd. Permission to use quotations from this article is granted subject to appropriate credit given to www.shipsandports.com.ng as the source.