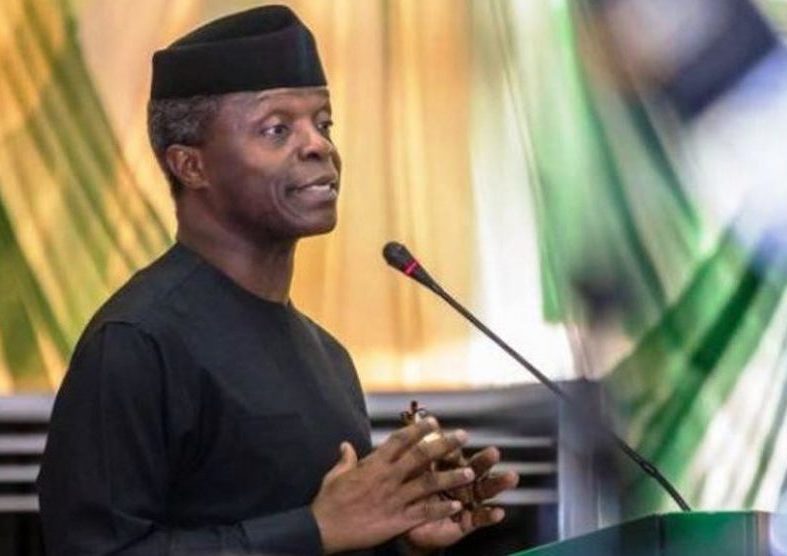 Vice President Yemi Osinbajo on Sunday declared that Nigeria has the capacity to overcome the many challenges she is facing.
He said this while addressing State House Correspondents after a special service to observe the country's Children's Day held at the Aso Villa chapel, Abuja.
"The truth of the matter is that there are always challenges everywhere in every nation of the world.
"But I am convinced that we have the capacity to surmount all of the challenges as there are.
"And the key feature for me, one of the key features of government and governance is the human development index, education, healthcare and the welfare of our citizens,'' he said.
According to Osinbajo, for the first time, the Federal Government is running a social investment programme, which has never been done before.
He said, "The focus of that is on the human development index, home grown school feeding. For the first time we are feeding 8.2 million children every day in 24 states.
"And that is because we are concerned about the nutrition of the children, we are concerned about the fact that children if they are not well fed, become stunted, even mentally."
Osinbajo added that those were the kind of things that the administration thought ought to be done "and we are doing them and we have to keep expanding, keep working, keep building, spending more and more".
He described the Nigerian children as special "because the future of our nation belongs to them and they have all that it takes to give the country a great future.
"They are very bright, they are very energetic, and they are very innovative and very creative.''
Osinbajo noted that by watching the drama and listening to the music rendered by the children at the service one could tell that there was so much innovation and so much energy in them.
"And so I am completely convinced that our nation's future is extremely bright because of all of the children that God has given us, the talent he has given us," he added.
Copyright Ships & Ports Ltd. Permission to use quotations from this article is granted subject to appropriate credit given to www.shipsandports.com.ng as the source.