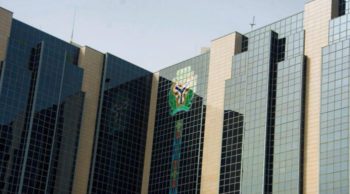 Nigeria's central bank will soon resume selling large volumes of dollars on the spot market and make the U.S. currency available to foreign investors at an undisclosed rate so that they can repatriate dividends, it said.
Oil-producing Nigeria has been gripped by a shortage of dollars since crude prices plunged, triggering a currency crisis that left foreign companies struggling to purchase hard currency and battered investor confidence.
It lifted a temporary currency peg last year, but in order to protect its precariously low foreign reserves it has introduced a convoluted exchange rate system that sees different buyers paying various rates for dollars.
The policy has masked pressures on the naira and stunted hard currency inflows as investors struggle to price naira assets, according to analysts.
"The (central bank) will soon … begin spot forex auction (and) open a special window for investors to trade freely … dividends and investment remittances," the bank said in a statement dated on Tuesday.
Africa's biggest economy has at least five exchange rates: the official rate, the black market, a rate for Muslim pilgrims going to Saudi Arabia, a retail rate set by licensed exchange bureaus and a rate for foreign travel, school and medical fees.
The naira closed trading on Wednesday at 306.10 on the spot market, supported by central bank dollar sales, and 410 on the black market.
The bank has been using the forward market to meet demand for dollars, making only tiny volumes available on the spot market and using those sales to influence the naira's official value.
Customers needing dollars immediately have had to pile into the black market, resulting in a sharp weakening of the naira's unofficial value.
On Monday, the central bank said it planned to sell shorter-dated dollar forwards to inject liquidity into the official market and support the naira, selling $100 million on Tuesday on such contracts and offering the same amount on Wednesday.
The bank also said on Monday it would sell up to $20,000 per quarter to small firms. It did not disclose a rate of exchange for the sale.
Analysts estimate the bank has sold close to $4.1 billion in forward sales in roughly a month.
In its Tuesday statement, the bank said now-rising oil prices had increased its foreign reserves to $30 billion from $24 billion a year ago.