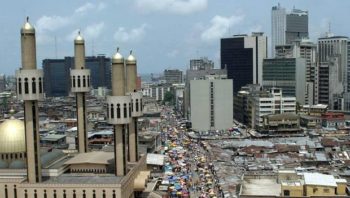 Nigeria exited recession in the second quarter, but the pace of growth was slow despite higher earnings from oil, suggesting Africa's largest economy remains fragile and overly dependent on its dominant export.
Growth was 0.55 percent year-on-year, the statistics office said on Tuesday, while OPEC data shows crude production rebounded 9.1 percent to 1.68 million barrels per day over the same period.
But that GDP expansion was a full percentage point lower than economists polled by Reuters expected, and the office also said the first-quarter downturn, at 0.91 percent, had been steeper than initially estimated.
The economy shrank by 1.5 percent in 2016, its first annual contraction in a quarter century, crippled by lower oil revenues following years of subdued prices and a shortage of hard currency.
"This is not at all a robust GDP print," said Razia Khan, chief economist for Africa at Standard Chartered, of Tuesday's figures.
"It still falls far short of the growth rates the Nigerian economy should be achieving."
Oil accounts for the bulk of Nigeria's foreign earnings and government revenue.
But according to International Monetary Fund figures for 2013 it makes up no more than a sixth of gross domestic product. The statistics office says it makes up less than a tenth.
The office said the second quarter GDP contribution from the non-oil sector – notably agriculture and manufacturing, including textiles, clothing and footwear – shrank slightly from the previous three months and from the previous year.
Nigeria's government has also touted agriculture as a way to wean the country off its oil dependence. Growth there fell to 3.01 percent from 4.53 percent in the second quarter of 2016.
"Regardless of growth moving back into positive territory, it remains fragile," said Celeste Fauconnier, a regional economist at Rand Merchant Bank in Johannesburg, which predicts a full-year expansion of just 0.5 percent.
"An undiversified production base, a host of structural rigidities and persistent security troubles point to a prolonged and gradual recovery period," said Fauconnier.
Nigerian crude production slumped last year as militants attacked oil facilities, with an average output of 1.54 million barrels a day in the second quarter of 2016, according to OPEC figures.
Output rebounded after the government engaged in negotiations to address communities' grievances in its crude-producing heartlands in the Niger Delta.