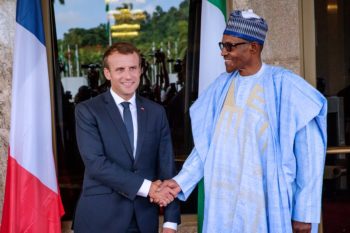 Nigeria and France on Tuesday signed bilateral agreements on social amenities and reforestation worth $475 million.
President Muhammadu Buhari and his French counterpart, Emmanuel Macron witnessed the signing of the agreements during their bilateral talks held at the Presidential Villa, Abuja.
The agreements cover Urban Mobility Improvement Programme of Lagos State, sustainable water supply in Kano city and reforestation in Ogun.
The Lagos agreement involved a letter of intent for the financing of urban mobility improvement project through a loan of $200 million.
The urban mobility project will involve the development of eight priority bus corridors connected to the Lagos mass transit network.
In Ogun, a French firm in conjunction with the Nigeria Sovereign Investment Authority is to mobilise from investors about $200 million for land reclamation to correct the massive degradation of arable land being witnessed in the state.
France, through its foreign development agency, Whence Francaise de Development (AFD), will also extend a credit facility of $75 million towards improving water supply in Kano city.
The concessional loan is expected to help Kano State Government ensure more residents of the city have access to drinking water while improving the financial viability of the state water board to increase its revenues.
Addressing journalists after the signing of the agreements in a joint press conference, Buhari and Macron, expressed the readiness of both countries to continue to promote socio-economic interests for the general good of both countries.