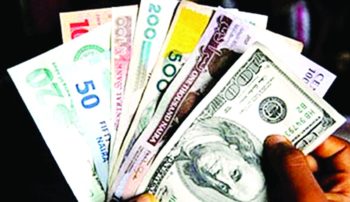 The gap between what traders bid and offer for Nigeria's naira on the black market has widened following a series of central bank interventions on the official market.
Traders are trying to hedge against losses after the currency firmed sharply during previous session.
The central bank has been intervening on the official market in recent weeks to narrow the official currency spread with the black market rate.
It offered to sell $100 million in currency forwards on Thursday.
Bid-offer spread widened as much as 15 naira on the black market on Thursday after the currency gained 4.9 percent on Wednesday to a seven-month high. It firmed to as much as 385 on the black market. Others quoted 406 to the dollar.
On the official market, the naira was quoted at 308 per dollar on Thursday and traded with a spread of 0.50 naira.
"Everyone is hedging their bets. We bought the dollar as high as 500 naira and we don't know where the rate is going," one black market trader, known as Salisu said.
He expected the naira to firm further.
Central Bank Governor Godwin Emefiele on Tuesday said that speculators betting on a naira fall "are taking a risk and will lose". He added that he expects the black market rates to narrow further.
Bid-offer spread on the black market was 5 naira before those comments.
The bank has also been weakening the naira on the official market to converge rates, traders say. But has said the weakness was not a devaluation and it has not provided a target rate.
Aminu Gwadabe, head of Nigeria exchange bureaus, told Reuters he expected the naira to stabilise around 380-400 to the dollar, but added that the central bank must review the multiplicity of rates.
The West African nation has at least five exchange rates – the official one, a rate for Muslim pilgrims going to Saudi Arabia, the one for school fees abroad and a retail rate set by licensed exchange bureaus at 399.