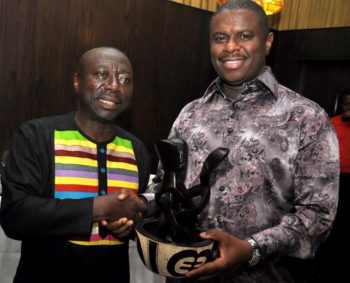 The Nigerian Maritime Administration and Safety Agency (NIMASA) has signed a four-year Memorandum of Understanding (MoU) with Ghana Maritime Authority (GMA) to stop pirates attacks in both countries.
At the ceremony on Monday in Lagos, the Director-General of NIMASA, Dr Dakuku Peterside, told a delegation of GMA that the MoU would be renewed every four years.
The two maritime bodies endorsed a document of a relationship to support the aspirations of both countries.
Peterside said that the MoU had no financial implication on both countries.
"Africans must cooperate to solve their own problems. Nobody outside Africa will help us solve our own problems.
"If we must turn around the economic policies of our countries, particularly the West Africa sub-region, we must cooperate with each other.
"There are areas Ghana is stronger than us and there are areas we are stronger than Ghana and there are areas we need the Ghana Maritime Authority," he said. 
He said that the piracy affects nation's trades, adding that intra-Africa cooperation would give both countries all the advantages.
The NIMASA boss said that there was need for both countries to put their acts together by listing their potential in order to maximise their benefits.
He said that the maritime sector has the potential to catalyse the economy growth of each country.
Peterside said that GMA would be turning a page in her quest to become one of the foremost maritime administrations in Africa for Ghanaians to benefit from their natural resources.
He said that key highlights of the MoU are: Knowledge sharing, Capacity Building Initiative, Cabotage Enforcement and joint efforts to combat piracy and terrorism.
The director-general said that the MoU also revolved around implementation strategy and action plan; monitoring and coordination; coordination of movement; financial arraignment; confidentiality as well as dissemination of information.
In his response, the Director-General of GMA, Kwame Owusu, commended the Nigerian maritime operators.
"One thing that is important is that competition should not be one thing that will drive people from one place another.
"We will like to say that there must be consistency and if there is 20-year jail term for pirates and armed robbers in Nigeria, it must be the same 20 years in Ghana.
"We guarantee NIMASA all the support in International Maritime Organisation (IMO) in terms of leadership. We in Ghana will support you.
"We in Ghana will not be ashamed to say that we are in the middle and that you are far, far ahead of us and you have achieved a lot that we need to learn,'' Owusu said.
The Director, Finance and Administration, Ministry of Transport, Ghana, Emmanuel Num, commended the efforts of Nigeria in strengthening maritime sector in the region.
He said that the MoU symbolised the approval of the Ministry of Transport Accra, adding that the relationship would benefit the peoples of both countries.
Copyright Ships & Ports Ltd. Permission to use quotations from this article is granted subject to appropriate credit given to www.shipsandports.com.ng as the source.