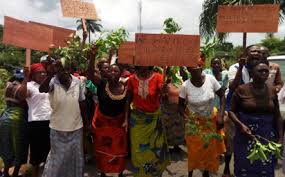 Nigeria lost over 80,000 barrels of crude on Monday as protesting women and youths shut down two major flow stations in Erhoike and Olomoro, insisting that they would not discuss review of the Memorandum of Understanding with operators of the flow stations, through a non governmental organization or any third party.
As early as 9am Monday the protesting women took over the main gate leading to the flow stations , chanting solidarity songs. They also accused the operator of the flow station of allegedly failing to implement portions of the MoU it went into with the communities when it took over operation of the flow stations.
"We want the company, Heritage Energy to discuss with our community. No negotiation wit any third party. We have taken a joint resolution as the 111 host communities to OML 30 that the operators of the oil fields in the area meet with us within 7 days" Secretary of Cluster 4, Andy Adese said in Erhoike flow station.
Mrs Angela Michael who also spoke at Erhoike flow station during the protest accused the firm operating the flow station of allegedly failing to implement the scholarship deal it had with the community for youths in the area, adding that the firm should employ youths from the area as staff.
"Our youths want to go to school. The scholarship they promised us we have not seen. Our youths are not employed in the company. We want all the issues to be addressed," she said .
Chairman Community Development Committee, Orogu, Chief Benneth Abafe, also lashed at operators of the flow station for allegedly shortchanging the communities.
Chairman CDC Oleh, Chief Ekokobe Obaro, who spoke to newsmen at Olomoro flow station also called for addition of the name Oleh in the flow station, adding that operators of the oil field should discuss directly with the communities under OML 30
"To employ indigenes of the community as staff of the company this has not been done. The entire field has about 40 wells, Oleh alone has about 23 oil wells. Among the 12 clusters in OML 30 this field produces about 80,000 barrels per day. This flow station is the one feeding the entire OML 30.
From all indication the moment the women are here once the place is barricaded nobody goes in and nobody comes out," he said. 
Copyright Ships & Ports Ltd. Permission to use quotations from this article is granted subject to appropriate credit given to www.shipsandports.com.ng as the source.