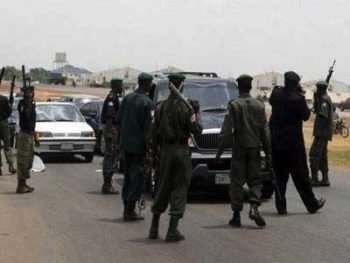 Nigerian traders say the country lost more than N130bn to corruption at its porous land borders in the past three months.
President, National Association of Nigerian Traders (NANTS), Ken Ukaoha, who disclosed this on Wednesday, said Nigerians can only imagine the gravity of the situation when similar practices happening at the airports and seaports are taken into consideration.
"These past three months alone, Nigeria has lost more than N130 billion due to the porosity of our borders and the corrupt practices going along the border routes.
"This is for land borders only.
"We have not added the goings on at the airports and we have not added the ones at the seaports. And these are selected land borders. So you will know the gravity of the situation if you add up everything," he said.
Ukaoha called on the Federal Government to address the corrupt practices on the country's trade routes especially in view of the fact that cross-border trade is key to economic recovery, revenue generation and growth.
"The unnecessary trade barriers created by non-transparent, burdensome rules and procedures, in turn, constitute vulnerabilities and breed corrupt behaviours," he said.
The president of the association stated that unnecessary delays in the movement of goods have continued to increase operators' and consumers' losses as well as reduce the revenue that should accrue to government.
He added that the unnecessary delays in the movement of goods had further increased the cost of doing business.
He said sharp practices such as over-invoicing, false declaration of goods, illegal importation, smuggling, trafficking either in human or small arms, as well as drug peddling were being perpetrated on the trade routes on a daily basis.
Ukaoha stated that the association is working closely with the Economic Community of West African States toward tackling the corruption that goes on at border routes.
He said the ECOWAS Trade Liberalisation Scheme would be used to promote trade and economic integration in the region.
The scheme was set up in 1979 as one of the first and immediate instruments of ECOWAS to galvanise the realisation of development objectives of the region.
Ukaoha stressed the need for awareness campaign involving all trade-related committees and clerks to deepen understanding of the scheme and other related regimes.
He also called on ECOWAS to set up a dedicated portal for the scheme to ease access to information.
Ukaoha further called for the relocation of the National Approval Committee (NAC) of ETLS to the Federal Ministry of Industry, Trade and Investment from the Ministry of Foreign Affairs.
Copyright Ships & Ports Ltd. Permission to use quotations from this article is granted subject to appropriate credit given to www.shipsandports.com.ng as the source.