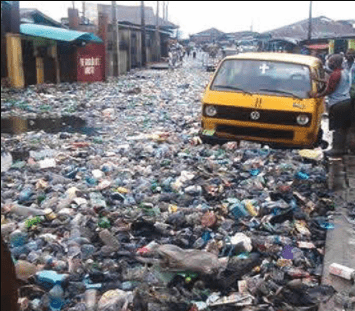 Nigeria's National Assembly and the Federal Ministry of Environment are putting finishing touches to a bill that will prohibit the production of plastics, which pollute the environment. 
A member of the Senate Committee on Marine Transport, Senator Tolulope Odebiyi, disclosed this in Lagos at the launch of the Maritime Action Plan for Marine Litter and Plastics Management in Nigeria. 
Odebiyi, who is sponsoring the proposed bill, who represented the chairman of the committee, Senator Danjuma Goje, said the bill would be harmonised with input from the Federal Ministry of Environment to make a holistic law that would impose tough sanctions on the production of organic polymers.
"I am happy NIMASA has taken the lead in ensuring that our waterways and all our water bodies are clean, safe, and a vital source of economic activity for us in this country.
"I drafted a bill with regard to plastic pollution and proliferation of plastics in the country. The issue is getting to an alarming state. NIMASA has taken the lead. But this is the backend of it. We also have to look at the frontend. We are spending billions of naira tiding up the environment; we also have people making billions of naira contributing to this menace. That is where the bill is aiming. 
"You cannot continue to generate pollution, clog our waterways, cause erosion, flooding and all kinds of things, and some people are making money, knowing fully well that their product is contributing to the pollution," Odebiyi said. 
Also speaking, Chairman, House of Representatives Committee on Environment, Johnson Oghuma, said the lower chamber was committed to a cleaner environment. 
Oghuma said the House was always prepared to assist the executive in the implementation of government policies.
"We are ready, and by the grace of God, I represent the Speaker in the Committee on Environment. Every legislation on the environment is jealously guarded by the committee. I urge everybody, wherever you are, behave like NIMASA, help us to save our environment," Oghuma stated.
The Director-General, Nigerian Maritime Administration and Safety Agency (NIMASA), Dakuku Peterside, in his welcome address at the event, said, "We all know that solutions to this global challenge are multiple and require consideration of a systematic approach to the various sources generating the pollution, both land- and sea-based contributors, and a combination of intervention in different sectors and at different levels."