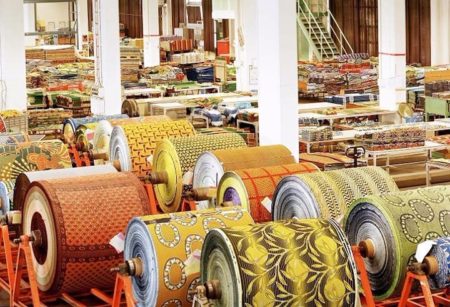 China, the world's biggest textile producer and exporter, recently announced its intention to revive Nigeria's dying textile industry with a $2bn investment. The investment to be executed by the Rui Group, would involve expending the said sum, across the textile value chain in Nigeria; growing cotton, textiles and so on. Expected to meet 20 percent of West African demand, this deal would involve the construction of new textile factories in Katsina, Kano, Abia and Lagos states. Prior to this, Rui Group had in 2017, signed a $600 million investment plan with the Kano State government to resuscitate its textile industry. Dutch textile manufacturer, Vlisco, also proposed a similar investment of $200 million a few weeks ago, to encompass the total supply chain for cotton, textile, and the garment industry from weaving, spinning to retail. In fact, Vlisco declared its interested in changing its supply chain from Asia to Nigeria. Interestingly, Vlisco had in early 2015, signed a memorandum of understanding with the Federal Government concerning the development of textiles in Nigeria. According to the agreement, Vlisco was to develop Nigeria's cotton/textile industry in return for favourable and direct access to the marketplace in terms of tariffs. When Nigeria's mantle of leadership was changed in 2015, and Vlisco later ran into financial difficulties, nothing more was heard of that agreement. With another presidential election few months away, it is unclear what would become of these recent proposed investment plans.
This would not be the first time the Nigerian government is attempting to revive the industry after its demise in the late 90s. As far back as 2010, under the auspices of the national policy on Cotton, Textile and Garment (CTG), part of the National Industrial Revolution Plan (NIRP), the Bank of Industry approved a N10 billion textile fund for the revival of the industry. As a result of this gesture, capacity utilization was reportedly increased from 29.14 percent to 50 percent, with about 8000 jobs saved, according to the then Minister of Trade and Investment, Olusegun Aganga.  But in a recent report, the Minister of State for Industry, Trade and Investment, Aisha Abubakar, said Nigeria has yet to reap the outcome of the NIRP policy because of constraints like insufficient cotton seeds for production, smuggling and counterfeiting, high cost of operations, and the lack of enabling infrastructure. To make the CTG policy more workable, she announced it would undergo a holistic review in order that current realities are taken into account. In the meantime, the fate of 1.3 million small-holder cotton farmers in Nigeria and the estimated 17.2 million persons who depend on the sector, hangs in the balance.
Once the third largest in Africa, after Egypt and South Africa, Nigeria's textile industry was as at 1987, composed of 37 textile firms. The firms operated 716,000 spindles and 17,541 looms, according to the United Nations University. At the time, the industry was protected by the Federal Government who introduced a ban on imported textile products. The largest employer of labour in the manufacturing sector, the industry between 1985 and 1991, recorded an annual growth of 67 percent. Following strict government policies in the mid-80s, sourcing of local raw materials for the production of textiles, maintained a steady growth from 52 percent in 1987, to 57 percent in 1988 to 64 percent in 1991. Synthetic textiles alone accounted for about 80 per cent of the recorded growth. Nigeria began setting up textile mills in 1956, the first being the Kaduna Textile Mill. The aim was to process cotton, a primary material for the production of textiles, which was being cultivated in the north. Despite the apparent prosperity of the textile industry in 80s to mid-90s, the sector's output failed to exceed 55 percent of domestic consumption. Readily available raw materials like cotton, for the production of textiles had become a problem. Nigerian farmers were experiencing lower yields of cotton and could not access improved variants like the disease and pest-resistant, high yielding biotechnology cotton. Petrochemical products such as the dyes, polymer and other synthetic materials being produced in Nigeria, were also not readily available. Inadequate power supply had also become a problem, resulting in higher costs of producing Nigerian textiles as power supply accounts of 45 percent of the production costs. Then there were the technical gaps in the industry; while 61% of the mills were dedicated to solely spinning cotton, the remaining 25 percent were integrated mills able to combine spinning, weaving, knitting and dyeing. This inability to keep up with technological advancements in textile production was further worsened when Nigeria in 1995, made its entry into the World Trade Organisation. This required that the abolished import policies which had previously protected its textile industry. With the import restriction policy lifted, cheaper textile imports, majorly from Asia; China, Indonesia, India, Malaysia, Japan and Singapore, flooded the Nigerian market. This left Nigeria's locally produced textiles at a disadvantage due to the higher cost of production. At present, Nigeria spends about N170 billion yearly, to import textiles and readymade clothing.
Cotton production is the bedrock of the cotton textile and garment industry. According to the Food and Agricultural Organization data, Nigeria is the 22nd world producer of cotton and 6th in Africa. In 2016, it produced 348,000 tonnes (1.5%) of the world's output. Meanwhile it is estimated that Nigeria has a potential, to produce 600,000 tonnes. Producing states are said to include Kano, Kaduna, Oyo, Ondo, Kwara, Katsina, Jigawa, Ogun, Kebbi, Sokoto and Zamfara States. Unfortunately, even with the bilateral agreements with foreign partners, cotton production in Nigeria, may get nowhere until the basic infrastructure are put in place. First and foremost is the security of not only the cotton farmers but their land and produce. Kaduna, Zamfara, Sokoto, Kano and Jigawa, all cotton producing states, in the last one year, have been victims of armed banditry; some more often than others. Regularly invading farming communities, armed bandits rob these agrarian communities of crops, cash and other valuables. This has resulted not only in the loss of lives and properties, but also the displacement of the indigenes too scared to remain in their ancestral homes. Unless the problem of armed banditry and other insecurities in the north come to a definite end, proposed investments from foreign partners may remain unfilled promises. In other states like Oyo, it is the threat of herds of cattle roaming free in cultivated farmlands; these are all threats to cotton production. There is also the issue of mechanized farming which has yet to take solid root in Nigeria; cotton production being no exception. Unfortunately, mechanized farm implements are expensive and out of reach for small holder farmers. Cultivating a large farm, requires the use of no less than five tractors, one of which costs between N11 million and above. Meanwhile securing funds from commercial banks is near impossible, especially with the interest rate as high as 25 percent. Although there is the Federal Government's Anchor Borrower Fund, loans money at the rate of 9 percent, more funds should be made available to farmers if Nigeria is to return to its cotton production glory days. Adequate land preparation achieved with the use of mechanized equipment, guarantees high yield of any crop. Even leasing farm equipment by private leasing companies have not made the situation any easier. Leasing fees are exorbitant and without government intervention, may contribute to the high production costs of Nigeria's cotton.
Purchasing cotton inputs such as improved seedlings and insecticides to combat pests and diseases, is costly. In developed countries, these inputs are produced by the government and made available to farmers at a subsidized rate. In Nigeria, producers of these inputs are often private establishments, causing them to be expensive. For example, Nigeria in August, unveiled two strains of genetically modified cotton; MRC 7377 BG 11 and MRC 7361 BG 11. Both were developed by Mahyco Nigeria Private Ltd, in collaboration with the Institute for Agricultural Research (IAR) at Ahmadu Bello University, Zaria. A more active government participation in such research will help to bring down the cost of such cotton varieties, making them available to small cotton farmers. Unfortunately, improved cotton varieties being subsidized by the government are often inaccessible. President, National Cotton Association of Nigeria (NACOTAN), Anibe Achimugu, said this much when he lamented the inferiority of cotton seedlings being planted by Nigerian farmers. He said, "Cameroun cultivates 1.4 tonnes of cotton, Benin Republic, 1.2 tonnes. Nigeria on the other hand, cultivates, 400-500kg per hectare. When you cannot get sufficient yields, it is counted as a loss. Formerly, we produced about 300,000 metric tonnes of cotton yearly, but the farmers are producing less than 50,000 metric tonnes at the moment." At the moment, the Nigeria Customs Service is battling to end a $1. 2 billion smuggled textile industry; this is a war it is most certainly not winning, not with the numerous creeks and pathways into the country. One sure way of breaking China's stranglehold on Nigeria's textile market is crashing the cost of producing local textiles. Relying on a one-time rival to resuscitate Nigeria's textile industry may not be in our best interests. Instead, ensuring efficient and steady electricity supply to textile industries, will be more effective in reducing the cost of textile production to the barest minimum than any ban on imported textiles.