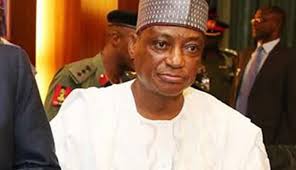 Nigeria's Defence Minister Mansur Dan-Ali on Wednesday, said the country had procured modern equipment from Russia and United Arab Emirates to fight insurgency.
Dan-Ali made this known in Abuja while briefing the Vice President, Yemi Osinbajo on the security situation across the country.
He said: "In order to sustain the tempo of the counter insurgency operation in the northeast, the present administration had recently procured modern equipment to enhance the combat effectiveness of our armed forces.
"Mine-resistance ambush patrol vehicles, one 20mm Motors and ammunition were being procured by the Nigerian Army. Also, some patrol boats and other platforms have been ordered by the Nigerian Navy for outpost at Lake Chad Basin while contract for helicopters from Russia for the Nigerian Air Force has been awarded and approval for addition four of MI 35 are being awaited.
"Additionally, 20 unmanned aerial vehicles from the United Arab Emirates have been procured by the Nigerian Air Force to support the operation in the North East.
"This administration has also shown tremendous concern to the welfare of troops particularly in the northeast through prompt payment of troops' salaries and allowances as well as improvement in medical services."