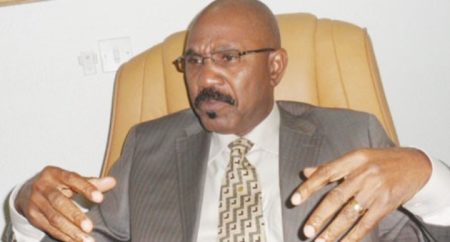 Sen. Olorunibe Mamora is the newly appointed Managing Director, National Inland Waterways Authority (NIWA). In this exclusive interview with SHIPS & PORTS'Shulammite 'Foyeku, the former Lagos State Assembly Speaker reveals why he wants to settle a lingering dispute with the Lagos State Government over control of waterways in the state and also speaks on his plans for NIWA towards ensuring safer water transportation for Nigerians.
Excerpts:
What measures are you putting in place to make water transportation safer for Nigerians? 
There have been some boat mishaps accompanied by loss of lives in some of these incidences. So my first reaction is to send my condolences to the families of those affected particularly the recent one in Kwara State where some young stars were involved. Having said that, on the general basis, boat mishaps could be due to derelicts, wrecks on the water channel; we could have issues of non-compliance with inland waterways transportation boats; we could have the issue of crafts that are not even certified just like having a vehicle on the road that is not road worthy. We also have issues with operators just like you have drivers operating vehicles without drivers licence or driving under the influence of drugs. It could also be issue of not understanding the terrain. But specifically, recent occurrences have been due to non-compliance particularly overloading; sailing in the night without navigational lights; we have the issue of dilapidated crafts usually the dugout boats. The one that happened recently here in Lagos was a collision because they were sailing very late in the night around past eleven from the information we got and there was collision.
Again, part of non-compliance,there is also the issue of not putting on life jackets. Usually what we do is to get the incident investigated so that we can really identify the cause and use that as a guide in future. Now in terms of what we are doing to stem the tide; we first have to increase our awareness campaign, sensitization and education. In fact, one of the decisions reached at one of our recent management meetings is to increase sensitisation campaign in the various locations and in so doing, involving not just the boat operators alone, but just like you have the road transport workers unions; they also have their unions. We'll involve them and their leaders so that they take ownership of the sensitisation exercise. And of course in so doing we are not going to partner with boat operators and users only but the various communities as one where the wooden boats are the only option available to them. So, we will partner with the community leaders and the local government officials, the state officials and some NGOs because there are some NGOs that have interest in water transportation so that together, we will be able to make a difference. And of course, in this sensitisation exercise, we would be hammering on this issue that there should not be overloading, the need to wear life jackets, the need for them to have manifest of the passengers from one location to the other so that we will know who and who is travelling and in so doing, we are going to use the leaders and some of the local people there.
One of the things we are introducing is what we call waterways transportation marshals so that they would be there not necessarily to start arresting people but what we are interested in is to continue to drum these things in and to take ownership of their own safety because the issue of security is everybody's business and particularly the users themselves. They need to take ownership of their own personal safety. So, that is the immediate response to these incessant accidents. We are also looking at the medium term in which case we will be doing a lot of patrol. Don't forget, we have vast inland waterways coverage so we know our limitations in terms of personnel, logistics but we need patrol boats to be able to do this. We will also as much as possible within the funds available to us to be able to have the personnel and patrol boats to ensure this medium-term measures. And of course, don't forget that we are a regulatory body and we are going to ensure that every craft is registered and it is also within our jurisdiction to make sure that every craft plying the waterways is waterways worthy.
The long-term measures are also there in terms of partnering with the marine police and every other agency – even our sister agency – so that by the way of synergy and collaboration, we can achieve better safety on our waterways. Again, it is very important for me to mention that the issue of clearing the channels of wrecks, derelicts and all that but we cannot do this without charting. We need to chart and do a lot of study of the channels. The channels are bad but we will prioritise the clearing of the ones that are mostly used. Just like you put on the roads that there is a bend here, the same way we have on the waterways. We are going to make sure that we put the necessary waterways signs. So, that's in respect of safety issue.
What measures are you going to put in place as penalties to ensure compliance by the operators?
That is why I said in the immediate in terms of short-term measures, the first thing is the education and enlightenment and following that, will be issue of enforcement. We have in place waterways transportation code, which is a form of delegated legislation.
Of course, in the course of our education, sensitisation and awareness, we will distribute these things and ask that they be translated to local languages in various locations that we can give to people. The first thing is to get them educated. We also have our Corporate Social Responsibility where we buy the life jackets and distribute everywhere we go. So we are going to do much of that because it is our corporate responsibility. And we discovered that even some of these life jackets are substandard. We want to be sure that we standardise these things, we mark them, give NIWA staff and distribute these things on our own. After we have done all these things, then the issue of enforcement will come in because people say ignorance is not an excuse in law but it is our duty to educate the people and let them take ownership because it is about their safety first.
I have just mentioned the vastness of our inland waterways; we cannot police everything. It is just like our borders, very porous but we will do our best and pay attention to areas where we have high traffic load. We also have some illegal jetties being operated. That is where the issue of the waterway marshals will come in. The enforcement is not just in terms of the users, but the operators too. We must ensure that the crafts are registered; we will do audit of crafts in particular areas and be able to say this one is waterway worthy or not and then do our enforcement.
What are you doing to address the faceoff between NIWA and LagoSstate over control of waerways within the state?
I think since I resumed, that was one of the first issues I commented on. For me, it should not even be an issue of supremacy because government at all levels aresupposed to collaborate and be in synergy. What are we set out to achieve? It is the good of the people and if that is the goal; we don't need any battle of supremacy at all. Fortunately, on one of my very first outings, that was the question I was asked even though we were discussing the issue of security and I made it clear to them that the issue between Lagos and federal governments regarding the inland waterways is not issue of security, it is an issue of revenue and I made it clear that I believe in amicable resolution.
Lagos and the Federal Government have been in court for over a decade and in all these years, who is losing? The two sides! My approach is to have an out-of-court settlement and amicably too. Once we agree in principle that we want this thing resolved in the interest of the people, all we have to work out is simple modality. Again, I must quickly add that there is enough for everybody's need but not enough for everybody's greed. There are so many jetties from Badagry to Epe to Ikorodu. So, that's why I said there was enough for everybody's need. We can always agree on how we share out even locations or our operations but the big problem is that we just must ensure that at the end of the day, we do not subject our people to multiple taxation because the goal of government is for the good of the people.
Hopefully, sooner than later, I intend to seek audience with Governor AkinwunmiAmbode of Lagos because I need to take it from the top and once the governor buys into it, in terms of what we are trying to do, I think every other thing will follow. So, it is one of my priorities, it is one of the things I intend to do. It is one of the expectations of the people out there and we intend to resolve it once and for all.
How will you encourage more investors to enter the business of boat operations because existing operators are complaining of high registration cost?
Well for me, one of the things that we are doing now is trying to focus on public private partnership because it is the way to go. We are going to invite people out there to invest and we are going to have better regulations. In fact, I am hoping that just as we have mass transit buses, there is no reason why we cannot also have mass transit waterbuses. It is possible through PPP arrangement and we are getting some proposals to that effect.
We will pursue that to a logical end and we must also ensure that the necessary logistics are in place because a lot of the jetties are not in good shape. We need to replace them either with floating jetties or other forms of jetty. The important thing is that we have something that meets the best of standards and of course will be safe and secured and it will engender confidence in our people to make use of the waterways transportation especially in Lagos where the population is and the traffic is massive.
The Onitsha River port has been on for decades and yet not operational, what are you doing to make sure that it becomes operational?
I feel so bad because I have visited Onitsha, Lagos, Eket to Calabar to have on-the-spot assessment of all the facilities. I felt so bad when I visited Onitsha because this is a place that billions have been sunk into and yet it is not functional but the good thing is that Mr. President is interested and we are in the final stage because it is going for concession. We are in touch with the regulatory commission, ICRC, and we already have some bidders.
You know the bidding took place some years ago and there were issues of petitions here and there but we are resolving all that and we are moving to the final stage of getting it concessioned to the firm that won the bid. So, we are working on it. We have no choice than to let it go because it is going to boost the economy of the country because it is a very vital port.
Copyright Ships & Ports Ltd. Permission to use quotations from this article is granted subject to appropriate credit given to www.shipsandports.com.ng as the source.