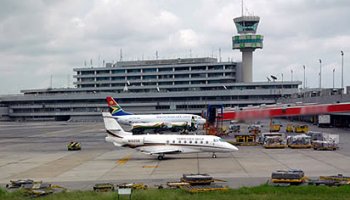 Professor of Aeronautics and Astronautics and Provost, College of Engineering, Kwara State University, Leo Daniel has rated the Nigeria's aviation sector low saying that the industry is lacking in national carrier, infrastructure and skilled manpower.
According to him, "Nigeria does not have aviation industry".
"Flying a plane is not aviation. Do we have health monitoring system of an aircraft? We don't have hangar where aircraft can roll into and be checked. We don't have even a national carrier that goes overseas. All we have is foreign aircraft that come to help us carry passengers. We don't have airspace system; our system is porous. A small state like Ethiopia has all these things," Daniel said. 
"Generally, we don't have aviation industry; that is what I can say. We don't have even the airports; they are not adequately equipped. Mention one airport that is international in Nigeria, none. Lagos and Abuja? What do they have there? Just fly to a place like Dubai. When you get to that place, the terminal alone will tell you that there is airport. Do we have such terminal here? They have extended the Murtala Mohammed Airport but it is not enough to actually depict us. The only airport that has the longest strip in West Africa today is Uyo. Boeing 747 or Airbus 380 can actually land in that airport," he noted
In the area of manpower, Daniel said, "We can't find anyone in Nigeria. Let me give you example. In rocketry or propulsion system, we don't have people who are trained in Nigeria. We don't even have it in Nigeria.
"We sent one to Atlanta Georgia who is now being trained for PhD in aerodynamics system. He will soon graduate. Aerodynamics system comprises all the forces that we have in aircraft, the thrust, the lift, and the weight, all these have to do with aerodynamics system of an aircraft. He is studying that aspect. We also intend sending one lecturer for further study."
Copyright 2017 Ships & Ports Ltd. Permission to use quotations from this article is granted subject to appropriate credit given to www.shipsandports.com.ng as the source.