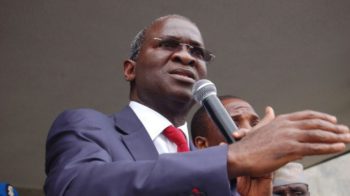 The Minister of Works, Power and Housing, Babatunde Fashola, wants those opposed to the closure of the Nnamdi Azikiwe international airport, Abuja, to know that Nigeria is not the first country to close an airport.
The decision of the federal government to shut the airport for six weeks over repairs on the runway has been met with stiff resistance in some quarters.
At the senate on Tuesday, Fashola said there was no other option but to close the airport, but Otis Anyaeji, president of the Nigerian Society of Engineers (NSE), disagreed, arguing that runway repairs could be done without a total closure of the airport.
They both appeared before the upper legislative chamber with Hadi Sirika, minister for state on aviation and a representative of Julius Berger, for a special session on the closure of the airport.
"It is runway of the airport that needs to be closed because it isn't safe, it is a matter of immense public safety," Fashola said.
"Right to life means nothing if government does not prevent loss of lives… Nigeria is not the first country to close an airport and divert traffic to another city, Manila has done it."
He said the contract for the rehabilitation of the Kaduna-Abuja express way had been given out and contractors were already on site.
"They said the road would finished in 50 days, though they are asking of advance of more than 50 percent, they have not been paid but their presence is visible on the road," Fashola said.
"Minna is shorter distance, but my humble submission is that Kaduna Abuja highway lends it self to the situation. They would be inconvenience and I sympathise with those who would be travelling."
On his part, Otis argued that the work on the runway could be done in segments.
"The total shutdown if the air port is liking shutting down Nigeria," he said, suggesting that smaller aircraft could use the Abuja airport, while bigger ones could be diverted to another location.
"It is possible to carry out the proposed rehabilitation without shutting down the airport, the issue is not technical but managerial. The runaway should be rehabilitated in segments," he said.
"This has been done in the UK Gatwick airport, action should be commenced in the second runway."
The Abuja airport will be shut for a period of six weeks starting from March, and all flights would be diverted to Kaduna airport within that period.
Copyright Ships & Ports Ltd. Permission to use quotations from this article is granted subject to appropriate credit given to www.shipsandports.com.ng as the source.