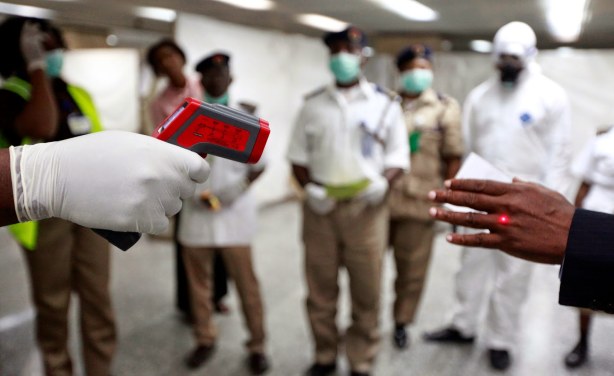 Nigeria's Federal Executive Council (FEC) on Wednesday directed the Federal Ministry of Health to step up surveillance at all entry points in the country to prevent return of the deadly Ebola virus.
Briefing journalists at the end of the FEC meeting chaired by Vice President Yemi Osinbajo in Abuja yesterday, the Minister of Health, Professor Isaac Adewole said the government ordered that steps be taken to stop the fresh Ebola outbreak in the Democratic Republic of Congo (DRC) from getting to Nigeria.
Adewole said that part of the new measures to be taken include screening passengers coming into the country, while stating that the Federal Government was determined to keep the country safe.
He said, "Of course, of great concern to the Federal Executive Council is the outbreak of Ebola in DR Congo. As you might be aware, over the last one month, DRC recorded 19 suspected cases of viral hemorrhagic fever and lost 16 of the cases.
"But, what is also particularly important was that, on Monday, blood samples were drawn from five patients in the DRC, particularly in a particular district in DRC, two of the five cases, Ebola was actually confirmed.
"FEC has now directed the Federal Ministry of Health of help to step up emergency surveillance activities at all land and airport borders, so that we can actually keep Nigerians safe.
"What we will do is to set up an emergency operation center which will be chaired by Dr. Babasanya, who actually led our efforts in Liberia and Sierra Leone and Guinea during the outbreak in 2014.
"Not only that, we will be screening incoming passengers, particularly passengers from DRC and neighbouring countries. We will also ensure we step up all activities screening people coming in so that we will not be caught unawares.
"Nigerian Center for Disease Control (NCDC) will also consider sending some team to DRC as part of building capacity for managing the outbreak. We want to assure Nigerians that the Federal Government is concerned about the outbreak and will do everything possible to keep the country safe."
Nigeria experienced an Ebola outbreak in 2014, leading to the deaths of eight persons including a brave medical doctor, Stella Adedavoh.
Copyright Ships & Ports Ltd. Permission to use quotations from this article is granted subject to appropriate credit given to www.shipsandports.com.ng as the source.