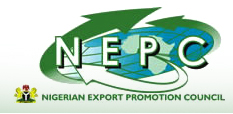 The Nigerian Export Promotion Council (NEPC) on Tuesday said that most  Nigerian exporters were fully ready to export to the United States  through the African Growth Opportunity Act (AGOA).
The Lagos Zonal Coordinator, NEPC,Babatunde Faleke made this known  while speaking at the Pre-Exhibition Selection Exercise for Non-Oil  Exporters, organized by the council in Lagos.
He said that the exercise was aimed at re-screening exporters of  exportable items under the AGOA programme, for the upcoming trade  shows in the US.
"The truth is, most of our exporters are ready for exports under the  AGOA programme, with all that we have and the market is there waiting  for us.
"Most of them have been involved in exporting, but some areas like  documentation need to be better settled.
"Here, we have exporters of food items, commodities, finished and  unfinished industrial materials like raffia, charcoal whose products  are compliant with all the requirements to export to the
US.
"The US market is very large, but under the AGOA, we export duty-free,  so it's worth our stress and that's what we keep doing here to ensure  we record successes," he said.
Faleke also said that there were up to 250 products exportable under  AGOA, most of which Nigeria had the highest global production capacity  in.
He said that the council had been appealing to the government to  revive the Export Expansion Grant (EEG), in order to get more  manufacturers into the export net and generate revenue for the country.
He said that in spite of the readiness of non-oil exporters to export  more non-oil export products formally, they are unable to meet up with  the demands of the buyers, hence the need for grants.
Faleke also said that the council would soon kick-off the Nigerian  Diaspora Export Programme (NDEX), which was a major project aimed to  establish a 'Nigerian city' in most countries of the world.
The AGOA programme is a United States Trade Act, enacted on May 18,  2000, as Public Law 106 of the 200th Congress. AGOA has since been  renewed to 2025.
The legislation significantly enhances market access to the US for  qualifying Sub-Saharan African (SSA) countries.