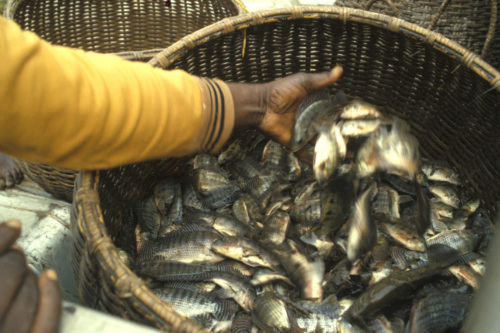 Nigeria, in 2016, recorded the eighth highest amount of inland water capture worldwide, according to "The State of World Fisheries and Aquaculture 2018" report released by the Food and Agricultural Organization (FAO).
The report published in July, lists inland water capture to include Tilapia, crabs, prawns and catfish.
Of the top ten producers of inland capture in the world, Nigeria is the second highest in Africa after Uganda. The list includes China 2,318,046 tonnes; India 1,462,063 tonnes; Bangladesh 1,048 242 tonnes; Myanmar 886,780 tonnes; Cambodia 509,350 tonnes; Indonesia 432,475 tonnes; Uganda 389,244 tonnes; Nigeria 377,632, tonnes; United Republic of Tanzania 312,039 tonnes; and the Russian Federation 292,828 tonnes.
The report said, "Total global catch in inland waters was 11.6 million tonnes in 2016, representing 12.8 percent of total global capture in fishery production.
"The 2016 global catch shows an increase of 2.0 percent over the previous year and of 10.5 percent in comparison to the 2005–2014 average.
"The continuously increasing trend of inland fisheries production may be misleading, however, as some of the increase can be attributed to improved reporting and assessment at the country level and may not be entirely due to increased production. The improvement in reporting may also mask trends in individual countries where fisheries are declining."
It added that 16 countries in the world were responsible for almost 80 percent of the inland fishery catch, majority of which are in Asia where inland catches are a key food source for many local communities. Asia as a whole has a consistent share of two-thirds of global inland production of fish.
While Africa accounts for 25 percent of the global inland catches, Europe, the Americas and Oceania account for 9 percent. In Africa, inland catches are said to be important for food security in several countries in Africa.
"Most major producing countries show increased catches in recent years, with the exception of Egypt, the Philippines, Thailand and Uganda.
"Brazil, by far the major producer in South America, has not reported official catch data to FAO since 2014, so its statistics have been estimated," the report said.
For Nigeria, it was an increase of 11 percent over the 337,874 tonnes captured in 2015.
The report also recorded the annual increase or decline of the various species of inland catches. Tilapias and the cichlids group, are said to have shown a continuous increase, reaching 1.6 million tonnes in 2016, twice the number of 2005 catches.
Carps, barbels and cyprinids, which exceeded the Tilapia group in 2005, has kept steady at between 0.7 and 0.8 million tonnes per year.
Freshwater crustaceans and freshwater molluscs on the other hand, which recorded its highest captures in the early 2000s and mid-1990s, respectively, is said to have shown relative stability since 2010 at 0.45 and 0.36 million tonnes, after periods of decreasing catches.
"FAO is currently evaluating options for establishing an approach to inland fishery assessment that would enable member countries to track key fisheries. This would assist in global monitoring of inland fishery resources as well as in the development of appropriate national policy and management measures," the report added.