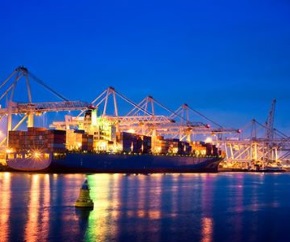 In its latest research report, Dynamar B.V. Examines the West Africa container trade.
West Africa comprises twenty-five different nations, big and small, onshore and offshore, including five landlocked countries. The total region encompasses around 9,700 kilometers of coastline and a land area of 12.75 million square kilometers. It accommodates over 535 million people, has a trade value of USD 294 billion and a GDP estimated at USD 802 billion.
The area is divided in three coastlines: North Atlantic-Mauritania to Liberia, Gulf of Guinea-Ivory Coast to Gabon, and South Atlantic-Congo to Angola. Each area has its own characteristics. For example, Gulf of Guinea and South Atlantic are heavily involved in the oil and gas sectors. This is clearly reflected in their economic performance.
The Gulf of Guinea region makes up for a share of 65% of population, 71% of GDP, 63% of trade and 56% of container throughput. It also houses the largest ports in terms of throughput, which are located in Togo, Nigeria and Ghana, in that order.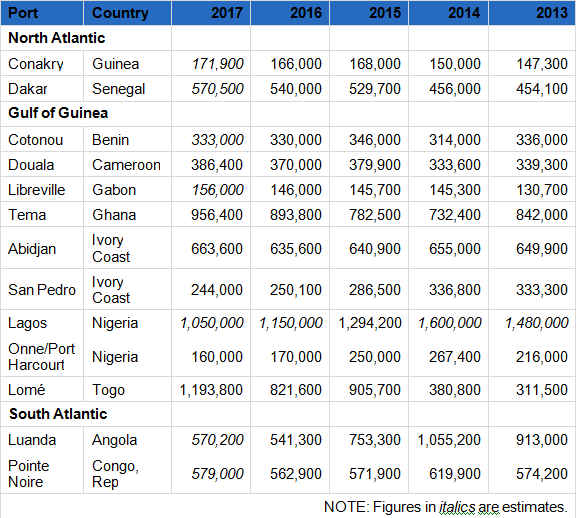 On the way to maturity
West Africa is clearly moving into the direction of maturation, certainly if compared to East Africa. The ships are bigger, there are more carriers and there is a substantial presence of international port operators. In 2017, 285 box ships sailed the seven intercontinental trade lanes to West Africa. Deployed by twenty-four different operators, their average capacity was 3,300 TEU.
West African terminals and ports have benefitted from foreign investment by terminal operators and carriers driving growth. For that reason they are generally well equipped. Foreign terminal operators include APM Terminals, Bolloré, China Merchants Ports, DP World, ICTSI, Portek, TIL Group (MSC) and various carriers, such as CMA CGM in Cameroon and Nigeria, Grimaldi in Nigeria, and NileDutch in Angola.
West Africa crude oil production shrank in 2015 and 2016 when the average price of crude oil plummeted. As a consequence, between 2013 and 2017, West African merchandise trade value shrank by one third to USD 294 billion. In particular Nigeria and Angola suffered, with both countries heavily dependent on the Oil & Gas industry. The only region to show absolute growth over the period was the North Atlantic region, generally the poorer cousin. Overall, West African container volumes have grown by 1.4% only in 2013-2017 period.
However, there is hope for West Africa again and the carriers serving its trades. The price of crude oil is on the rise, bringing investors back. As such, after a massive two year dip, West Africa is poised for strong growth yet again. This should also translate into increased container volumes, forecast to grow by 5% until 2021.
Partly in line with the global consolidation trend, the number of vessel operators reduced by five over the last two years. Twenty-four liner carriers are active now, with Maersk Line still in the lead, although MSC is hot on its heels on the back of significant growth. 'New' entrants to the market include CoscoSL and ONE. In all, nowadays there are fifty-four container services connecting with West Africa, down from seventy-one(!) in 2014.
Within the next year, over a dozen West African ports will be able to handle vessels of more than 6,000 TEU, or even as large as 10,000 TEU. However, Lagos lags behind, despite being the largest port in the region's largest economy. It was the highest ranked West African country in 2015 but is now only fifth in terms of liner connectivity. Chronic hinterland congestion threatens its development.
Maersk Line and sister Safmarine initiated Algeciras-West Africa transhipment links in the early 2000s already, operating eight relevant services in 2004. Interestingly, despite the emergence of very capable terminals across West Africa, there has been no substantial decrease in indirect traffic via the Med. Even today, an estimated 25% of all West African container volumes runs via a Mediterranean hub.
Source: Dynaamar B.V.