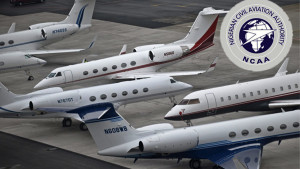 The Director General, Nigeria Civil Aviation Authority (NCAA), Captain Muktar Usman has said 2017 was a safe year for aviation in Nigeria as the sector recorded no accident in the commercial schedules.
Speaking to newsmen on Thursday, Usman revealed that the same feat was achieved in 2016, adding that the NCAA would further consolidate on the achievements in 2018.
According to him, the only incidents recorded were those concerned with aircraft on tarmac.
Usman attributed the feat to the implementation of requisite safety programmes by all authorities concerned, saying the authority kept close tap on airlines to do the right thing.
He said reports of accidents released in the previous year also helped to deepen safety programmes in the sector.
"It was through a lot of hard work, training and surveillance, inspections and we want to do more on that this year.
"Last year also, we were able to work very hard in the retention of the Category One Federal Aviation certification for Nigeria, it is one thing to attain, it is another to sustain. Our pledge this year is that we would continue to sustain whatever certification we have and also to build on the successes we recorded last year". Usman said.
Globally figures from two reports indicate that 2017 was the safest year in commercial aviation history, with no fatal large passenger jet accidents, although lives were lost in regional and cargo aircraft crashes.