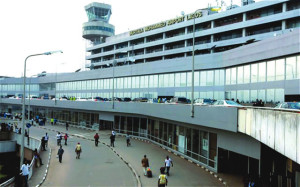 There is palpable unease among aviation circles concerning the leaking roof at the Murtala Mohammed International Airport Lagos. A video of the leaking roof at the airport, which has gone viral online puts the image of the country in disrepute within the comity of nations.
The video did only show the flooded airport but carried discussions online about how Nigeria prestige airport has been reduced to the scum of the earth. It was a sorry sight.

Stakeholders in the industry did not find the video amusing. When SHIPS & PORTS DAILY sought the opinion of some travelers at the airport, they concluded that it was failure of leadership.
"If you compare most airports abroad with the one we have here you will know that we are just deceiving ourselves. It is the same corruption we are talking about and nothing else," a traveler, Segun Mesumo, said. 
Another traveler, Sola Ola said, "When I first saw the video I couldn't believe my eyes. I shouted is this Lagos International Airport! It's a shame. If you check the leaking roof you will discover that that the material, they used there may be substandard.  Here the leaders think about their pockets and not service."
Both travelers said that scenario is a big ridicule to the image of Nigeria as the giant of Africa and called for investigation to ascertain the real truth behind the leakage.