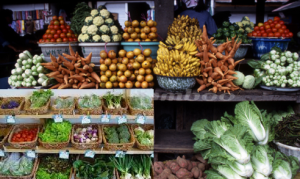 Nigerians are expected to spend as much as N9.9 trillion in 2017 to import various items into the country.
This information was contained in a data obtained from the Central Bank of Nigeria (CBN). The apex bank data also revealed that the country spends about N3.4tn annually on importation of four food items including rice, wheat, fish, and sugar.
The document also projects that the country would begin to see a significant reduction in the level of importation from N9.9 trillion in 2017 to N9.34 trillion and N8.79 trillion in the 2018 and 2019 fiscal periods, respectively.
The Acting Director, Trade and Exchange Department, CBN, Woritka Gotring, said the huge preference for imported items especially rice, wheat, fish and sugar by many Nigerians if left unchecked could worsen the economic recession currently facing the country.
Gotring stated this while responding to questions after speaking recently at a forum on the challenges of foreign exchange management in Nigeria under economic recession.
He said the depletion of the country's external reserves was largely caused by the huge demand for foreign exchange, adding that this was a major reason a lot of actions were taken in that direction by the apex bank in recent times.
Gotring said while the economy was going through tough times owing to the decline in foreign exchange inflows, the problem could be better managed with patronage of made in Nigeria products.
He said, "Foreign exchange rate is one of the most important means through which a country's relative level of economic health is determined.
"The slump in global oil prices has hit Nigeria hard, plunging the country into recession. It is evident that the economy is going through tough times with declining inflows and continuous demand pressure for foreign exchange arising from high import bill."
He said that it was the resilience of the informal sector that had been reducing the impact of the economic crisis on Nigerians.
He said if not for the resilience shown by the informal sector where a lot of people were engaged in various economic activities, it would have been difficult to manage the economic crisis.
He said despite the fact that a lot of people in the informal sector were employed in one form of economic activity or the other; the infrastructure gap in the country was limiting the potential of the sector.
In order to enable the country to conserve its foreign exchange, he called for policy consistency that would encourage capital flow and promote local production, fiscal discipline, enhancement of local manufacturing capacity and import substitution.
Gotring also called for increased investment in agriculture, mining and solid minerals, and infrastructure in order to lower the cost of doing business.
Copyright Ships & Ports Ltd. Permission to use quotations from this article is granted subject to appropriate credit given to www.shipsandports.com.ng as the source.