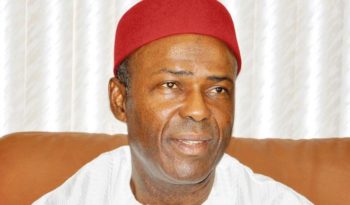 The Minister of Science and Technology, Dr Ogbonnaya Onu says Nigeria is making efforts to become an industrial hub in Africa through the deployment of Science and Technology.
Onu made this known when the Ukrainian Ambassador to Nigeria, Dr Valerii Aleksandruk and his delegation paid him a courtesy call in his office in Abuja Friday.
He said Nigeria will utilize Science, Innovation and Technology, to add value to her natural resources.
According to him Nigeria will also strengthen bilateral cooperation with Ukraine, in areas of Space Science Technology.
The Minister added that the administration of President Muhammadu Buhari is fully committed to the diversification of the economy through effective utilization of Science and Technology.
He stated that with the utilization of solid minerals in the country coupled with the enormous manpower the country is endowed with, Nigeria would become a manufacturing hub in the continent.
Onu said that it was high time Nigeria strengthened bilateral relations for mutual benefits of the two countries.
Earlier in his remarks, the Ukrainian Ambassador to Nigeria Valerii Alekhandruk, informed the Minister of Ukraine's willingness to sign a Memoranda of Understanding with Nigeria in the area of space science. He said such cooperation would enhance technological capability in Nigeria.
He informed the Minister on the impending visit of Ukraine's Deputy Minister on Science and Technology, to improve trade cooperation between the two countries.