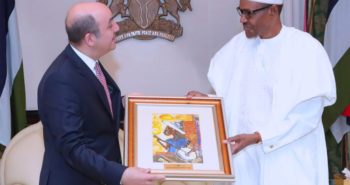 President Muhammadu Buhari has said Nigeria would continue to deepen relationships with her allies, especially those that share mutually beneficial interests with the country.
Buhari stated this on Thursday while receiving the outgoing Ambassadors of Ethiopia and Republic of Turkey at the State House, Abuja.
According to a statement issued by his Special Adviser on Media and Publicity, Femi Adesina, Buhari noted that security and economic development are crucial to any country, and that was why he visited Nigeria's immediate neighbours once he got into office.
He said the core policies of the administration which are securing the country, fighting corruption and reviving the economy cannot be effectively done without good neighbourliness and deepening of relationship with allies.
He said, "I visited Chad, Niger, Cameroon, and Benin Republic. You will spend less money on security, and deploy more resources to infrastructural development, when you are in good terms with your neighbours."
The president congratulated Ethiopia on the political stability that has been attained in the country after a recent change of government.
He also offered best wishes to the envoy in her new assignment as head of the country's electoral body, noting "anything that has to do with election in developing countries is particularly challenging."
Amb. Gutu described Nigeria and Ethiopia as "strategic partners" who have deep relationship, adding that her over three-year stay in the country was a period that saw improved bilateral relations between the two countries.
During the audience with Hakan Cakil of Republic of Turkey, President Buhari congratulated the outgoing Ambassador on the close relationship between the two countries and thanked Turkey for academic scholarships granted scores of young Nigerians in recent times.