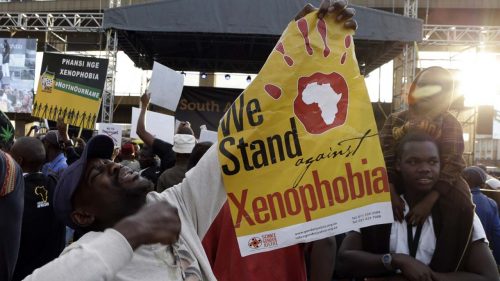 Nigeria Monday said it will take "definitive measures" as xenophobic attacks against Nigerian-owned businesses continue in South Africa.
Describing the attacks as sickening, Nigeria's foreign affairs minister Geoffrey Onyeama said South African police protection for Nigerian businesses has been "ineffective".
"We will take definitive measures," Onyeama said, describing the attacks as "sickening and depressing".
The minister said Nigerians were attacked and their businesses looted by "criminals" whom South African police is struggling to contain.
Adetola Olubajo, the president of Nigeria Union South Africa, an association of Nigerian residents in the country said in a statement Monday that many foreign-owned businesses were destroyed by South Africans in escalating xenophobic rages.
"Nigerian-owned businesses were seriously affected," Olubajo said. "A car sales business owned by a Nigerian were among the several businesses set ablaze over the night."
"Although the Police said that many people had been arrested in connection with the unnecessary attacks, the looting and burning of foreign-owned businesses continued till Monday morning."
Apart from the attacks on Nigerian businesses, many Nigerians have been killed in the country.
Reports say about 118 Nigerians have been killed in the country in recent years. Some were said to have been killed by the country's policemen.
In July, the largest association of Nigerian students called for the expulsion of South African businesses from Nigeria. The student group even picketed some businesses in Ogun State, southwest Nigeria.
But a South African official said the students' position was "unwarranted".
"I wish to express my department's concern regarding statements said to emanate from student organisation in Nigeria, calling for expulsion of South Africans and protests at South African owned businesses," the counselor in charge of political Affair at the South African High Commission in Abuja Anna-Maria Jojozi said.
"The protests are said to be in response to alleged killings of Nigerians by South Africans; as you are aware these allegations are devoid of truth, reckless and unwarranted," Jojozi said.
Jojozi insisted that xenophobic allegations and call for the expulsion of South African businesses from Nigeria does not reflect the strong bilateral relations between the two countries.
Nigerian officials insisted that the recent attacks on Nigerian businesses in South Africa were carried out by "thugs" and "criminals".
"It was so sad that Nigerians were humiliated and traumatized again in South Africa by thugs," Abike Dabiri-Erewa, the chair of Nigerians in Diaspora Commission, said.
Copyright Ships & Ports Ltd. Permission to use quotations from this article is granted subject to appropriate credit given to www.shipsandports.com.ng as the source.