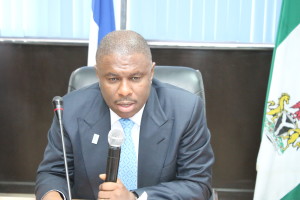 In an era where many state governments lack sufficient funds to pay workers' salaries and where the federal government has complained of lack of money to renew ageing social infrastructure, the Director-General, Nigerian Maritime Administration and Safety Agency (NIMASA), Dakuku Peterside, says the agency spent "only N100 million" in prosecuting its failed bid for a seat in Category C of the International Maritime Organisation (IMO) Council. 
Last week, a source at NIMASA informed SHIPS & PORTS DAILY that the agency spent about N300 million on travels, hosting the diplomatic community and other expenses in a bid to secure the IMO council seat. 
Some stakeholders who spoke with SHIPS & PORTS DAILY however described the IMO Council bid as a jamboree and called for Peterside's sack for his incompetent handling of the affairs of NIMASA and for the shameful IMO outing. 
However, speaking on Monday on the sidelines of the G7+Friends of the Gulf of the Guinea Group in Lagos, Peterside reeled out a catalogue of excuses for the agency's failure. 
According to him, "We cannot wake up as a country and say we are going to contest IMO elections. The rules of engagement require that we get the approval of the Federal Executive Council and that takes a process. After we got the approval, there are also budgetary processes to go through. All of these take time and affected our early preparation.
"We started late and Nigeria did not spend as much as other countries. Before, whenever Nigeria bids for elections in IMO, we will go from country to country but this time, we are just coming out of recession and we did not think it wise to send delegation from country to country.
"If we had got the commitment of the nation early before other nations got their commitment, the outcome will have been different. We are going to start preparation for the biannual election now.
"The choice of who get elected into the council is actually a democratic process. We presented ourselves but a few things were not tidied up which has to do with administrative processes and our campaign was not as potent as it should have been.
"I cannot deny the fact that the issue of piracy may have had some impact on the elections. Our colleagues did not have much information about what we were doing to tackle piracy and there was a general impression that Nigeria was not doing enough to tackle the issue of piracy." 
Earlier in a chat with SHIPS & PORTS DAILY, a London-based Nigerian maritime analyst, Donald Adebola, attributed Nigeria's loss to "inexperience and shoddy preparation" by the handlers of the country's bid.
He said, "It is clear that both the Minister and Peterside are not knowledgeable about the workings of IMO and while that is not wrong in itself, their inability to mobilise knowledgeable people on board to drive the process is confounding."
On Thursday last week, President of the Ship Owners Association of Nigeria, Greg Ogbeifun said while past NIMASA Directors-General of NIMASA have been sacked due to fraud-related cases, "this is the time to have the political boldness to sack the present leadership of NIMASA due to lack of competence".