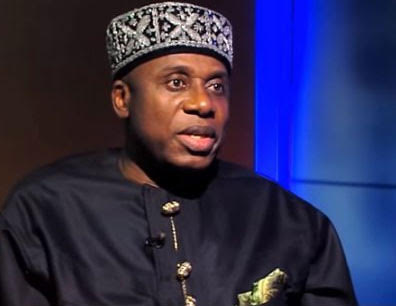 By Godspower Edoza 
Not many would see Rotimi Amaechi as a man who would seek divine help in his many political battles, but that was the image Nigeria's controversial Transportation Minister portrayed on Sunday. 
Amaechi told an awed church congregation in Port Harcourt on Sunday that after praying and fasting for three months, God used 'a friend', whose name remains unknown, to help him raise N200 million needed for his personal expenditure and litigation fees to reclaim his mandate in the 2007 general election.
Although Amaechi won the primary election of the Peoples Democratic Party (PDP), it was his cousin, Celestine Omehia, who represented PDP in the election.
Then President Olusegun Obasanjo denied Amaechi the PDP ticket because his candidature had "k-leg". 
Amaechi had headed to the court and after six months of legal battle, the Supreme Court sacked Omehia and he was eventually sworn in as Rivers State Governor. 
Speaking at a thanksgiving service in Port Harcourt, the Rivers State capital on Sunday, the minister charged the congregation to believe in the power of prayer.
"The truth is that we believed God. Some who didn't believe left us just as they are leaving now. God told me that what he will do in Rivers State will tingle the ears, and I believed," Amaechi said.
"We were so broke, we could not pay legal fees or children's school fees. My wife prayed every day and night. I was fasting and praying for three months. I told God 'I have a friend who has money, please make him remember me.'
"I called my friend and he told me he has been looking for me. I told him I was in Ghana and he asked for my account. He sent me N200 million. This is just to tell you that I believed God and he answered me.
"We must all go back to God in faith and prayers. Those who want to leave can go. I have come to understand that God passes us through these challenges to prove himself. Now that they have left, for me, this is an opportunity for the youths. It is your turn. You must ensure that we get to power for you to fill the vacuum left."
He said if members of the All Progressives Congress (APC) did not pray, 2019 will "be very far from us".  
Copyright Ships & Ports Ltd. Permission to use quotations from this article is granted subject to appropriate credit given to www.shipsandports.com.ng as the source.