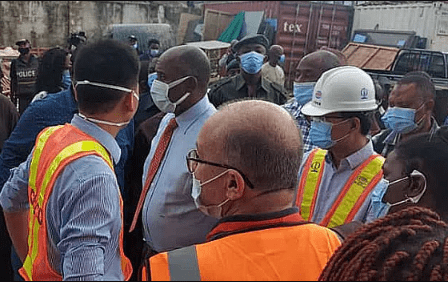 The Minister of Transportation, Rotimi Amaechi, has said on Sunday that the connection of the naion's premiere port, the Lagos Port Complex Apapa, is progressing steadily and is only "a few metres from the quay".
Speaking during the routine inspection of the Lagos-Ibadan rail project on Sunday, the Minister also said that the ports need rearrangement to fit into the rail project.
He said, "For me, I think the problem is the arrangement of the ports. The whole place looks like a madhouse and needs total overhauling. However, we will come to that soon.
"As for getting to the quays, we are few metres from the quay already."
Responding to questions on the vandalisation of some items on the rail line, Amaechi assured that those caught vandalising the rail line will be arrested and prosecuted.
"I hope you know that the NRC has a whole Police department domiciled in it. In the Ministry of Transportation, there are two agencies that have Police departments domiciled in them; they are the Nigerian Ports Authority (NPA) and the NRC. We will deploy the police at all the stations and anybody caught will be prosecuted and charged to court. We have to be serious about protecting public assets," he said.
The minister said that construction works on the Kano-Kaduna section of the rail project will commence in July.
"I am impressed that we are coming to the end of the Lagos-Ibadan rail project, but there are minor things that need to be fixed, and they have promised us that they will fix it. So, we will be coming again one day to the commissioning to inspect the project," he said.