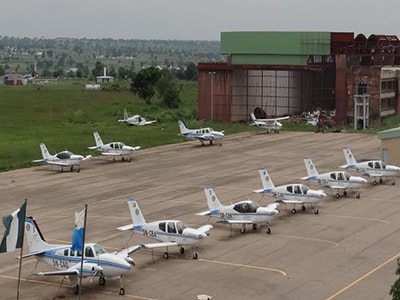 No passenger travelled out or arrived at six airports in six Nigerian states in 2020, latest reports on air traffic movements at airports across the country have shown.
Figures on passenger traffic statistics from January to December 2020 from airports showed that no one travelled through the international airport wings in Enugu, Kaduna, Cross River, Kwara, Niger and Katsina states.
The airport wings in the outlined states include the Enugu International Airport, Kaduna International Airport, Calabar International Airport, Ilorin International Airport, Minna International Airport and Katsina International Airport.
The six international airports had recorded passenger movements in the preceding year, but this was not so in 2020 due to the harsh global economic climate occasioned by the outbreak of the COVID-19 pandemic.
In 2019, the Enugu International Airport, for instance, recorded a total passenger volume of 34,513 travellers, Kaduna International Airport posted 7,421 passengers, while only 406 travellers used the Calabar International Airport.
Also in 2019, the Ilorin International Airport witnessed the presence of 5,285 travellers, Minna International Airport recorded 6,568 passengers, while the Katsina International Airport saw a total of 6,794 passengers that year.
It was, however, observed that while no passenger used the international wings of the six airports last year, their domestic wings witnessed passenger movements in 2020. But the figures were less than what they posted in 2019, except for the domestic airport in Katsina State.
Data put together by the airports' managers and obtained by our correspondent from the Federal Airports Authority of Nigeria showed that no passenger used the Enugu International Airport last year, but the domestic wing witnessed a traffic of 107,597 travellers.
Also, the domestic wings of the Kaduna, Calabar and Ilorin airports recorded total passenger volumes of 98,266, 94,984 and 63,957 respectively in 2020, as against the non-presence of any traveller at their various international wings.
The Minna and Katsina domestic airport wings also recorded passenger volumes of 2,710 and 9,847 respectively in 2020, but their international terminals witnessed zero passenger movement.
Although the six airports recorded domestic passenger movements last year, the figures were less than what they posted the preceding year, with the exception of Katsina domestic airport.
While domestic passenger traffic for Enugu, Kaduna and Calabar airports in 2019 were 185,058, 179,363 and 150,843, the figures dropped to 107,597, 98,266 and 94,984 in 2020 respectively.
Similarly, in 2019, Ilorin and Minna domestic airport wings processed 120,867, 4,323 passengers, while the figures dropped to 63,957 and 2,710 respectively.