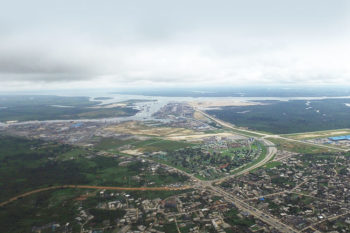 Nigeria's oil and gas logistics giant, INTELS Nigeria Limited has been conferred with the award of the "Most Outstanding Terminal Operator in Corporate Social Responsibility" by the Nigerian Shippers' Council (NSC), which is a Federal Government agency under the Federal Ministry of Transportation. 
The award, which was conferred on Intels during the NSC's Stakeholders Appreciation Night held in Lagos recently, was in appreciation of the company's effort at uplifting individuals, families and the host communities through its CSR.
Executive Secretary of NSC, Mr. Hassan Bello also commended INTELS for its huge investment and commitment to ports development in the country.
This is the second year in a row that NSC is conferring its award on INTELS. 
Intels is a core investor in the concession of major oil and gas terminals in Nigeria and has consistently raised the living standards of its host communities in Onne, in Rivers State, Warri in Delta State and Calabar in Cross River State.
Over the past ten years, INTELS reportedly spent more than N12 billion on Corporate Social Responsibility in empowering and supporting host communities in various areas of the Niger Delta region.
The company recently trained and empowered no fewer than 300 women in the Niger Delta region through its innovative Women Empowerment Programme Scheme Synergy (WEPSS).
WEPSS was instituted to enable the women become leaders and to also promote a positive and strong image for Nigerian women.
In recognition of the company's support, the Paramount Ruler of Onne Clan in Rivers State, King John Dennis Osaronu, recently commended the company, describing it as "a company Nigerians must be proud of". 
Going down memory lane, the Royal Father, who was a member of the Rivers State House of Assembly during the the Second Republic, said, "Thirty years ago, Onne was a virgin forest. Onne as you see today was not what it was about 25 to 30 years ago. Even the port area was forest. We used to go there to hunt for monkeys and catch crabs – we called it crab land until Intels came in.
"Before Intels came, the area was abandoned right from the time of Umaru Dikko as the Minister of Transport. Since Intels came into our community, we have got so many changes and things are going on so well with us."
He further stated that the company has provided lasting support to children, men and women of the community.
"They have built roads and provided us medical services. Recently they built us a 10-kilometre tarred road. They have built for us three schools and given us drainage system for the community," King Osaronu said. 
According to the Monarch, Intels also built a modern ultra-modern market constructed at the cost of N1billion and provided solar street lights for the community. 
INTELS' Women Empowerment Programme Synergy Scheme (WEPSS), where women from Rivers State are trained for free on fashion design and sewing, has particularly commendation.