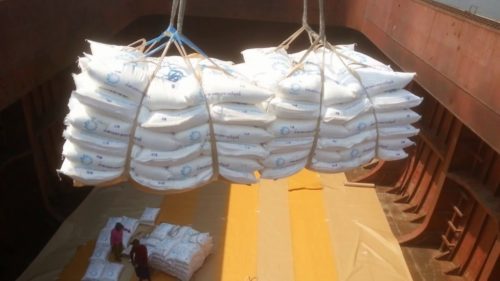 Nigeria is the world's largest importer of sugar, at 1.87 million metric tonnes, a report released last month by the United States Department of Agriculture, Foreign Agricultural Service, has said.
In the West African subregion, Nigeria remains the largest importer while in the African continent, it is second to Algeria, the largest importer at 2,265,000 metric tonnes.
Others in the top ten include Indonesia, China, United Arab Emirates, United States, Bangladesh, Algeria, Malaysia, South Korea, Nigeria and Saudi Arabia.
Sugar imports for Nigeria showed a steady increase from 2014/2015 at 1,465,000 metric tonnes to 2017/2018 at 1,870,000 metric tonnes. Since early 2018 however, sugar imports have remained steady, showing no increase till date.
According to the National Sugar Development Council, (NSDC), sugar consumption in Nigeria stood at 1.1 million metric tonnes in 2012, 1.50million metric tonnes in 2015, 1.56million metric tonnes in 2016, and 1.6 million metric tonnes in 2017. Local production of sugar on the other hand, stands at a paltry 25,000 metric tonnes as at 2016, rising by 85.34 per cent from 13,488mt in 2015.
Although Nigeria is reported to have the potential to meet local sugar demand, very few people are said to be involved in sugarcane cultivation, which is the raw material for producing sugar. Some of the factors said to be responsible for this include the increasing trend of converting viable agricultural land to residential purposes, as well as the difficulty in accessing and owning arable land. 
A 2017 data from the Central Bank of Nigeria states that over $100 million is spent annually on sugar importation into the country. 
Meanwhile India, which is the world's largest producer of sugar at 35.87 million metric tonnes, is projected to increase it further by 1.8 million metric tonnes due to higher yield of sugarcane in the country. Its exports are also projected to more than double to 4 million metric tonnes. India's sugar stocks are also expected to soar to a record 18.1 million tonnes. The country is also the world's largest consumer of sugar at 27.5 million metric tonnes.
The world's top ten producers of sugar cane, according to the U.S. report, include India, Brazil, the European Union, Thailand, China, United States, Pakistan, Mexico, Russia and Australia.
South Africa is Africa's largest exporter and the eighth largest in the world.