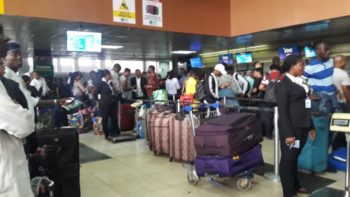 The Nigerian Civil Aviation Authority (NCAA) has stated that despite the fact that the passenger Bill of Rights unequivocally states what the Airline must do to help secure the quality of Travel and Consumer rights of their passengers, Nigerians are yet to know these rights.
Director general of NCAA, Captain Murtah Usman who disclosed this pointed out that Nigerian air passengers often are not aware of their rights when they are left stranded by an airline unlike their European counterparts.
In his paper delivered at the Airport Business Summit and Expo held recently at Shehu Musa Yar'adua Centre, Abuja, Captain Usman said that the passengers' Bill is intended to checkmate some abuses of rights of air passengers and to effectively provide adequate protection for the travelling public.
According to him, the Regulation spelt out provisions for the carriage of passengers and penalty for offenders, stressing that, as much as the airline owes the passengers obligation to provide good services, the passengers similarly have obligations to the airlines and other service providers.
In the paper titled: "Improving Air Transport Services For Better Passenger Experience", Usman said that the need to protect consumers' interests on matters bordering on denied boarding, flight delays, flight cancellations, mishandled/lost baggage, various compensation levels have become central and paramount for every regulatory agency.
He therefore, maintained that Consumer Protection from a regulatory standpoint has assumed centre stage globally in recent years and consciousness of air passengers' rights have increased over the years with the coming into force of several regulations.
This trend, he said witnessed the birth of many non-governmental advocacy groups that demand for quality service delivery to consumers of aviation products and services.
Captain Usman said, "In Nigeria, this awareness informed government's decision to set up a Consumer Protection unit in NCAA in March, 2001. This Unit was given legal backing with the coming into effect of the Civil Aviation Act 2006, particularly Section 30(4) (m) which stipulates that NCAA shall institute programmes for the protection of interests and rights of consumers of aviation services."
The NCAA DG who noted that the sweeping reform in the Aviation Sector is indeed changing the perception of the people about Government added "since the introduction of the air passenger bill of rights there has been tremendous improvement at the airports. Complaints received have dropped reasonably and other services have improved. However, there are criticisms as well as praises. It is hoped that with more consumer education and enlightenment by NCAA and co-operation from the service providers the effect of the bill would be felt.
"The leadership of the Aviation Ministry is committed to a genuine reform and passionate about the satisfaction of their passengers. Also the Management of the NCAA is very passionate and concerned about the satisfaction of air passengers. We know how painful it could be for passengers when they are not well treated by airlines and no one is responding to them.