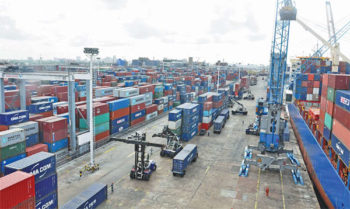 A United Kingdom-based publication, Guide to Port Entry, has accused government officials of allegedly seeking bribes and gratifications before clearing vessels for berthing at Lagos seaports.
The publication is the most accurate and comprehensive port information resource which assists crew in planning port calls to over 11,400 global commercial ports and terminals.
The report features more than 3,300 pages of port information and over 5,600 port plans and mooring diagrams. Over 9,000 ports, terminals and places are detailed and over 2,000 shipmaster's reports of conditions experienced and1,800 terminals are featured.
The government agencies that are expected to board and clear vessels on berthing include Port Health Agency (PHA), Nigeria Immigration Service (NIS), Department of State Security (DSS) Nigerian Drug Law Enforcement Agency (NDLEA); Nigeria Customs Service (NCS) and Pollution Control.
However, shipmasters have reported that officers of these government agencies and pilotage officers seek "presents" before performing their duties. The publication in its report on Lagos ports read, "The process of clearing takes 4-5hours as you may have to deal with many officials demanding various documents. Allow your agent to do the talking to avoid problems with the authorities.
"Masters should have the following 'presents' for officials. Beer, 12 cases; soft drinks, 20 cases; whisky, 10 bottles; Cigarette, 20 cartons; Fish, 10 bags (Prepared in advance). Others are Chicken, (whole) five packets; Longlife milk, three litres; Apples 10packets; Orange juice, four litres and sardine five packets."
On pilotage, the publication also accused pilots of seeking gratuities before berthing vessel. "Pilotage is compulsory, entry during daylight only. Vessels should arrive at the fairway buoy where the pilot arrives by tug two pilots (senior and apprentice) board vessels requesting "presents" prior to berthing the vessel.
However, the lead speaker at the celebration of the 2017 Day of the Seafarers (DotS), Capt. Fola Ojutalayo expressed dismay at Nigerian officials seeking gratuities before discharging their responsibility. Ojutalayo said what is reported about Nigeria by the Guide to Port Entry is economically and diplomatically damaging to our national image.