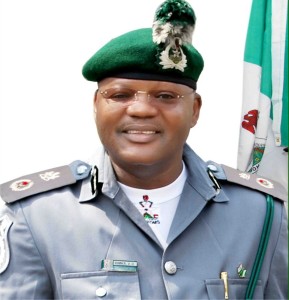 Area Controller, Seme command of the Nigeria Customs Service, Comptroller Victor Dimka has cautioned officers' of the command against unprofessional use of arms as the yuletide season approaches.
Dimka told the officers that arms should only be used when the conditions for usage becomes unavoidable warning that a situation where the border environment and communities always witness a lot of cross border vices and crises during the yuletide season will not be tolerated under his watch.
He enjoined the officers to maintain a high level of discipline, professionalism and patriotism in the discharge of their responsibilities to ensure that the entire border is fortified against smuggling activities and cross border crimes of any kind.
Dimka also charged all patrol leaders to ensure that the command remains blocked to smugglers of all restricted and contraband goods.
Meanwhile, the command said it generated N1.2billion as revenue for the month of November, 2016.
The command also made 99 seizures with a Duty Paid Value (DPV) of N82.8million in the period under review.
A statement by the command's Public Relations Officer, Salenchang Taupyen, a copy made available to SHIPS & PORTS DAILY, yesterday said the revenue generated exceeded the monthly revenue target of the command with N59 million.
Commenting on the revenue figure, Dimka attributed the feat to the commitment of his officers, the cooperation and compliance level of the stakeholders and the host communities that were ready to partner with him in transforming the command.
He stressed that being firm and persistent to the principle of transparency, diplomacy and fairness despite forces of distraction is gradually stabilizing the Command's revenue drive.
He reiterated that the command will continue to facilitate and provide a conducive and a level playing ground for every genuine trader that uses the Seme International land border as a corridor to the West African sub region.
He also attributed the success recorded to the firm stand taken by the Valuation Unit in generating values and the resolve of the Republic of Benin to partly comply with the Memorandum of Understanding signed on the 4th of August, 2016.
"This has actually translated to the higher revenue generated despite the numerous challenges that would have ordinarily hampered the revenue generated," he said.
In one of the briefings to his management team and patrol leaders, Dimka highlighted that the posting of an officer to a particular duty post is predicated on the fact that the officer is conversant with the books of instructions that guide his modus operandi, hence infraction observed will be traced to where it originated from and the culprit made to face the consequences of his action.