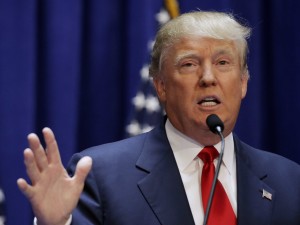 United States (US) President-elect, Donald Trump has said he would place a prohibitive 35 per cent tariff on goods produced by American firms abroad and exported into the US markets.
The 35 per cent tariff plan is the latest clearest indication of Trump's decision to keep jobs for Americans and to punish any firm that take away jobs from Americans.
Trump on Sunday issued a dramatic warning to American companies that they would face retribution in the form of tariffs if they move American jobs overseas, setting up a collision with corporate America and the free-market wing of the Republican Party.
In a string of early-morning tweets, Trump said he intends to keep jobs in the United States by lowering taxes for companies and slashing regulations, two key components of his economic agenda. But he also warned that companies that send jobs offshore would face a 35 per cent tariff on goods sold back to the United States.
"Any business that leaves our country for another country, fires its employees, builds a new factory or plant in the other country, and then thinks it will sell its product back into the US, without retribution or consequence, is WRONG!" Trump wrote on Twitter.
The threat marked perhaps the clearest sign yet since the election that Trump has not abandoned the controversial economic positions he adopted during the campaign. In addition to vowing to hit American companies with severe consequences if they imperil American jobs as a candidate, he pledged to tear up trade agreements and tag products from countries such as China and Mexico with tariffs if those nations continue to take American jobs.
The comments set up a clash with Republicans who have long argued in favour of free trade and against excessive intrusion by government into the affairs of businesses.
Senator Ben Sasse, a frequent Trump critic, argued that a 35 per cent tariff would be passed along to American consumers in the form of higher prices.
"Pres-Elect Trump means well. But won't his 35 per cent tariff idea raise prices on American families? How would it not be a new 35 per cent tax on families?" Sasse wrote on Twitter.
A conservative advocacy group, the Club for Growth, said that it favours Trump's proposals on tax and regulatory changes but warned of the consequences of cutting off trade.
"We think it's bad economic policy. It will cost more American jobs than it saves," said former Indiana congressman David M. McIntosh, the head of the Club for Growth. "Therefore it needs to be stopped."
Trump's threat Sunday also put American companies in an extraordinarily difficult position. Offshoring has been a key element of corporate America's strategy in recent decades, and major lobbying groups have been defenders of trade agreements. But groups stood nearly silent on Sunday, potentially worried about drawing the wrath of the president-elect.
Copyright Ships & Ports Ltd. Permission to use quotations from this article is granted subject to appropriate credit given to www.shipsandports.com.ng as the source.