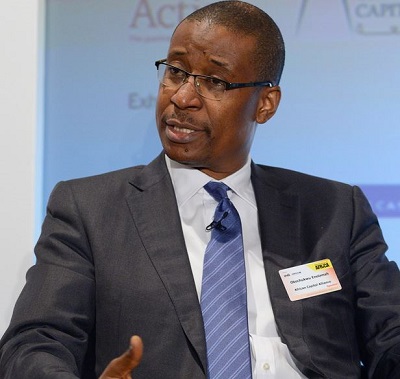 A former Director of Policy and Planning, National Automotive Design and Development Council (NADDC), Lugman Mamudu, has accused the Minister of Industry, Trade and Investment, Okechukwu Enelamah and the Comptroller-General of Customs, Hameed Ali, of deliberately killing Nigeria's automotive policy. The controversial policy, which was introduced by the administration of former President Goodluck Jonathan in 2014, aimed to discourage importation and encourage in-country production of vehicles.
But speaking with SHIPS & PORTS DAILY on Friday, Mamudu said the policy would have worked well and ended importation of vehicles into Nigeria if it had not been frustrated by Enelamah and Hameed.
Read the interview in full below:
How would you assess the Nigeria's auto policy six years after its introduction? 
Let me start by giving you the status of the policy. When the policy was launch in 2013/2014, it was supposed to have fiscal measure and about four programs that will sustain the policy to make it enduring over the years because it is supposed to be a 10-year program from 2014 to 2024. By 2018, we had already done mid-term of the program lifespan. The policy was supposed to start with attracting assemblers into Nigeria and I can tell you that on that note, the policy has succeeded because it had been able to attract companies like Honda, Peugeot, and KIA including bus companies. The whole spectrum of assemblers have been attracted to Nigeria such that by 2017, all of them combined have installed capacity to produce almost 600, 000 vehicles per annum, which would definitely meet our demand. In order to enable them produce to optimum capacity so that they can quickly move to the next level which is Completely Knocked Down (CKD), there was need to provide the marketing program, that is to create demand for them in the midst of tokunbo vehicles. There was supposed to be a credit purchase scheme under the marketing program to create demand. The credit purchase scheme was supposed to provide funds so that fleet operators or haulage firms can go to that facility and withdraw money at a very low interest rate and pay over a period. But unfortunate, Nigerian banks do not have appetite for that kind of product because they already have their own individual vehicle purchase scheme, which is very expensive. So we went to a specialist company in South Africa, West Bank, which is dedicated to auto loans alone. So we signed agreement with them, they came to Nigeria, set up their unit, did all the credit analysis as a result of which they were now encouraged to apply for a license. So we jointly applied for a license to the Central Bank of Nigeria (CBN) and they gave us provisional approval, then to pay N100 million naira in dollar equivalent and they paid. They were ready to go to the market when Minister of Trade and Investment, Okechuckwu Enelamah came. The moment he came and saw what we were doing, he said there is a better way to go about it and because of that, he put a hold on it. The bank got upset and they left. In fact, the Manager that they had appointed for Nigeria was sacked. Two years going now, the Minister had not come up with any strategy on how to realize it. With that, we have failed.
Another requirement of the investors was to go to the National Assembly, although most of the investments on ground now are mostly by Nigerians through partnership. The technical partners are not putting too much money because they said once the Nigeria government changes, it can easily reverse the policy. They said we should go to the National Assembly and have the policy legislated and we took it through the lower house and the Senate where it was passed. It was now to be cleaned and taken to the Presidency for accent when the new management of NDDC came in and they have since neglected it. The 8th Assembly of the Senate is going to close very soon and to that again, we have failed. There is another leg to it, which is the border control. It was supposed to help in such a way that smuggling will be reduced. We invested millions in a platform to have a seamless handshake with the Nigeria Customs (Service) and train our people in Customs, but as I speak with you, the Customs have refused to link with us. The site is there – dormant – after having spent over a N46 million on the project. In summary, the programs that are supposed to sustain the policy are not being executed with the desired speed attention. So as a result of that, the patient of the public is gradually running out because if the government is putting a 70 percent tariff on imported vehicles and the locally manufactured vehicles are not coming out, there is a limit to how long you can hold on to that 70 percent tariff for cars and 35 percent for vehicles. So that is where we are.  The appeal, if anything, is to urge NADDC and the Minister to execute the programs.
With the obvious setback in the auto policy, do you support the call that the government should review tariff on imported vehicles? 
The government should not touch the tariff. The moment they touch it, the entire policy will crumble. The reason that vehicle traders are investing in billions in vehicle plants in Nigeria is because of the 70 percent duty. For example, Honda has a plant in Ota, Ogun State. They are assembling in Nigeria. It is because of the tariff that most people are assembling now in Nigeria but the moment the government reduce the tariff, the Nigeria automotive ambition will die forever.
What would you say to the allegation that licensed companies hide under the guise of the auto policy to import fully built vehicles as semi-knocked down (SKD) at 10 percent tariff? 
It is a recurring issue often raised by people who don't like the policy. The SKD is in the tariff book. It was not invented by Nigeria. The Nigeria Customs (Service) is fully aware of the difference between SKD and fully built vehicles because they participated fully in the design of the policy. Semi-knocked down simply means the vehicle will be assembled in Nigeria after importing its parts. It is very labour intensive. For employment, it is number one and it creates the opportunity for people to learn the processes and gradually gives opportunity for local content. So those dismissing it are just ignorant. SKD is the first step towards going to the next step, which is completely knocked down (CKD) and the investment in CKD is in millions of dollars and nobody will go to that level if he is not succeeding with the first level. For those alleging that that the policy was a scam, the question is: who is at the border gate? When they come, is it not Customs that clear them? Is Customs not part of the policy? So if somebody brings goods into the port and say this one is SKD, do Customs not know which one is SKD and what is fully built vehicle? That is something those alleging should ponder over. So why would Customs allow such vehicles to come in if it is true that they do come in. There is no way Customs will allow a fully built vehicle to come into Nigeria and say it is semi-knocked down. The only way it is possible is if they (collect) bribe. Another baseless argument is that the policy is causing leakage in the Customs revenue. How? What is the quantum of vehicle that is coming as SKD? 80 percent of vehicles coming into this country are second hand vehicles even before the policy was introduced. So if there is any harm to inflow of revenue, it is from the second hand vehicles. The highest tariff on imported cars new or used before the policy came was 35 percent while the others are 20 percent flat. Now the policy put minimum for fully built at 35 percent for commercial vehicles and 70 percent for cars. Second hand vehicles remain at 35 percent with provision for depreciation using its current market value. So where is the leakage?  The policy does not affect second hand vehicles. The truth is Nigerians don't like manufacturing in any guise; they just like importation and Customs too like importation because that is where they are going to get money.